8 ways modern IT could help "Mad Men"
From word processors to VPNs, a look at how modern technology would have saved Sterling Cooper countless headaches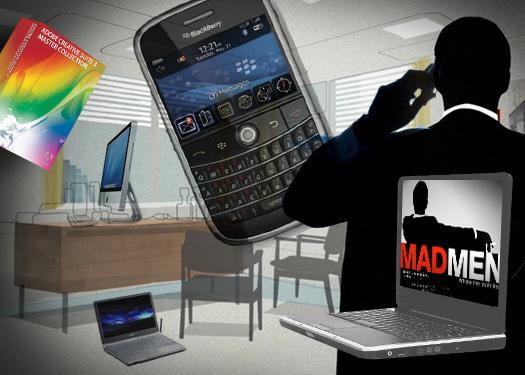 If only Don Draper and pals had worked in the Information Age…
AMC's acclaimed show "Mad Men," whose third season debuted this week, paints a glamorous portrait of a Madison Avenue advertising firm during its heyday in the early 1960s. But while the show's costuming and set design is both alluring and elegant, the technology its characters use is most certainly not. Because "Mad Men" is such a faithful replica of its time period, its characters are all stuck using clunky rotary phones and inefficient typewriters instead of BlackBerries and personal computers. In this slideshow, we'll examine how modern information technology could benefit the good people of Sterling-Cooper in both their professional and social lives.
Sopranos technology quiz
Networkiest TV characters
Science fiction's goofiest gadgets and technology
RIM BlackBerries
One of the larger tech-related snafus on "Mad Men" occurs when ad man Don Draper's secretary learns of his extramarital affair by snooping in on one of his phone conversations. Ah, if only Don had his own personal BlackBerry that his mistress could have called then his embarrassing secret would still be safe! From a more work-related perspective, having a BlackBerry could have given Don the ability to stay in better touch with his clients and might have prevented him from being blindsided when Dr. Scholl's canceled their account.
Microsoft Word
As secretary-turned-copywriter Peggy Olson can tell you, there's nothing worse than misspelling "Terre Haute, Indiana" on a typewriter and having to correct it at the end of the day when you'd rather be going out for a drink. Microsoft Word would have given Peggy the ability to spell-check her letters and to more easily make changes without retyping whole paragraphs at a time. As much as we take word processors for granted today, we should remember that in the not-too-distant past, things were much more difficult.
Cisco VPN clients
The hardest part about working at Sterling Cooper is the fact that you spend half your time at the office drunk… and that's before you hit the town afterward for a night of more drinking. And when you wake up hung over in the morning, you have to make your long commute and start the process all over again. If Sterling Cooper employees had access to Cisco VPN clients and other pieces of key telecommuting technology, they'd be able to sleep off their hangovers and work more from home.
Polycom SoundStation teleconferencing system
Another stressful aspect of being a well-paid advertising executive are the high-stakes face-to-face meetings with big-name clients such as Lucky Strike, Bethlehem Steel and the Richard Nixon campaign. If our Madison Avenue heroes had access to a teleconferencing system that let them talk to clients without bringing them into the office, it could go a long way toward reducing tension. And if nothing else, the folks at Sterling Cooper could drink and smoke during their meetings and their clients would never know.
AOL Instant Messenger
Gossip is an integral part of every office culture. Unfortunately back in the 1960s, the spread of gossip occurred rather inefficiently and often required secret bathroom meetings or cryptic notes passed from desk to desk. With the advent of instant messaging technology, it has now become possible to spread rumors at lightning speed and to do so discreetly without any chance of being overheard. Needless to say, this should only give Don Draper further incentive to invest in his own wireless device if he wants to keep his many secrets safe.
Adobe Photoshop and Adobe Illustrator
Believe it or not, a lot of advertisements used to be designed and laid out by hand with a pencil. Yes it's amazing to think about today, but it used to be that creating advertisements actually involved drawing original artwork. Well thankfully those days are gone and now we can just use computers for everything.
Blogs and Twitter
Don Draper once accurately stated that Sterling Cooper had "more failed artists and intellectuals than the Third Reich," as many ad men in the firm once had aspirations to be famous writers or musicians but became stuck writing jingles for London Fog raincoats. And when one of the Sterling Cooper account executives actually succeeds in getting a short story published in the Atlantic Monthly , it sets off a destructive wave of jealousy throughout the firm. The firm clearly would have been better off if its employees had had access to blogs or Twitter so they could have an outlet for their views and ideas and they could feel like their opinions mattered just a little bit.
Social networking sites
Social networking sites are a double-edged sword, of course. On the plus side, sites such as LinkedIn make it easy to get your résumé out there after you've been laid off by your snooty new British boss. On the downside, sites such as Facebook make it more difficult for you to keep your secret past identity hidden from others. But as long as you make sure that all your pictures have you tagged as "Don Draper" instead of "Dick Whitman," you should be all set.
Copyright © 2009 IDG Communications, Inc.
Next Up: Check out these related slideshows