2009's Summer Smartphone Blockbusters
From the Palm Pre to the BlackBerry Storm 2.0, this summer features a wide range of blockbuster smartphones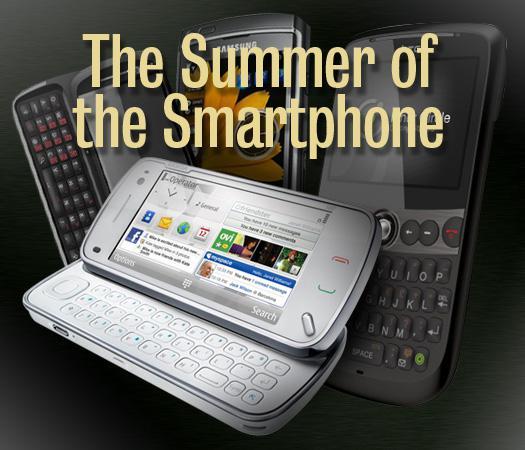 Although summer is traditionally the time when movie studios release their big blockbuster movies, it is also becoming a time when device manufacturers release their marquee smartphones. This year many device manufacturers have seemingly timed news about their big smartphones to coincide with Apple's annual Worldwide Developers Conference , where much-hyped updates to the iPhone have become annual fixtures. In this slideshow we'll preview the most hotly-anticipated smartphones expected to be released this summer, complete with information about their pricing, their operating systems and what carriers they'll run on.
The lowdown: As Palm's first entry into the smartphone market, the Pre is the latest device trying to knock the iPhone off its perch, following in the footsteps of the Samsung Instinct, the BlackBerry Storm and the HTC G1. During demonstrations of the device, Palm representatives have touted the features of the Pre's operating system, known as the Palm webOS, as a main differentiator from other smartphones. The webOS was designed to make developing applications for the operating system simple, as it is based on familiar Web standards such as CSS, XHTML and JavaScript.
The lowdown: What would the summer blockbuster season be without a sequel? Although Research in Motion has not yet put out any official word on the new Storm model's availability, the Internet Web rumor mill has pegged its release date anywhere from this month through this September. Pictures of the new Storm posted by Engadget show that the new device looks much like the old device, although early reports indicate that the new Storm has ditched the click-in touch screen that made it distinctive upon its initial release.
The lowdown: HTC, which made waves last fall as the first manufacturer to offer a device that runs on Google's open-source Android operating system, fired a shot across BlackBerry's bow with the debut of its new Snap phone at CTIA this year. With a design that resembles the BlackBerry Curve 8900 series – for example, a built-in four-row QWERTY keyboard and a 2.4-inch display screen – the HTC Snap's key feature is its Inner Circle e-mail system that helps users manage their e-mail by prioritizing e-mails sent to and from their most frequent contacts.
The lowdown: This GSM-based 3G smartphone features a full slider QWERTY keyboard and touchscreen technology. Nokia is promoting the device as a "the most powerful, multi-sensory mobile computer in existence" that features up to 48GB of storage, alone with 32GB of onboard memory.
The lowdown: Word on the HTC Lancaster first leaked when Engadget got hold of a series of internal slides produced by AT&T that outlined their upcoming device releases. The Lancaster has a look similar to that of the Nokia N97, as it features a slider QWERTY keyboard. The phone, which AT&T is describing as a "consumer social messaging device," will also be the first AT&T device to run on Google's open-source Android platform.
The lowdown: The Magic, another HTC smartphone based on the Android platform, is already available in Spain and the United Kingdom and is expected to be released in the United States sometime in the near future. The phone was approved for use in the United States by the FCC this past March and is a sequel of sorts to HTC's G1 phone, which made history last year as the first smartphone to be released based on the Android platform.
The lowdown: As the other big BlackBerry smartphone due to be released this summer, the Onyx is a more traditional BlackBerry device that features a QWERTY keyboard and trackball navigation. CrackBerry.com described the device as "the traditional (no touchscreen) BlackBerry smartphone so many of us have been waiting for" and particularly praised its ability to pack 3G, Wi-Fi, GPS and a 3.2 megapixel camera all into the same package.
The lowdown: This phone's big selling point is its HD video recording capabilities, which shoots video at 24 frames per second and has a resolution of 1280 x 720p. The phone is currently available in the United Kingdom from carrier Orange for £97.50 ($160) with a two-year contract. Although the company insists that there are no plans to release the OmniaHD in the United States in the near future, the phone has been generating so much positive buzz that we couldn't bear to leave it off our slideshow.
The lowdown: At this point it's unknown whether Apple will be releasing a whole new version of the iPhone hardware or whether iPhone users will simply have to make do with a new and improved operating system. Additions to the operating system will include Bluetooth-enabled P2P connectivity that will let users interact with other iPhone users in their immediate area; multimedia messaging services that let users send instant pictures, audio and map locations; and push notifications that lets applications send information and updates directly to your phone. Regardless of whether Apple unveils new hardware or software next week, it is sure to make waves.
Which smartphones are destined to become " Star Trek "-esque blockbuster hits? Which ones will be "Waterworld"-style bombs? Let us know in the comments!
Next Up: Check out these related slideshows