The evolution of Microsoft Windows
A look back at nearly 20 years of Microsoft operating systems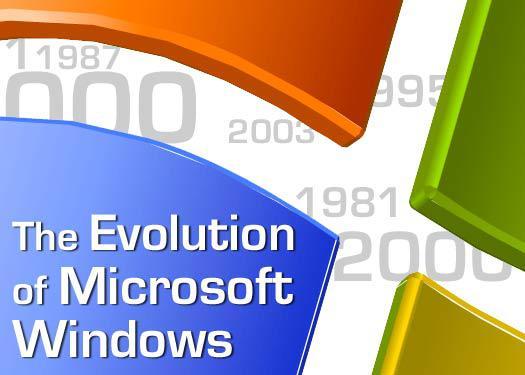 History of Windows
The Windows operating system has enjoyed a number of successes and a number of stubbed toes. Here is a look at some of the milestones in the evolution of what has become the dominant OS in the market.
MS-DOS 1.0
On Aug. 12, 1981, IBM introduces its personal computer with Microsoft's 16-bit operating system, MS-DOS 1.0. The "Microsoft Disk Operating System" or MS-DOS was based on QDOS, the "Quick and Dirty Operating System" written by Tim Paterson of Seattle Computer Products.
Windows 3.0
On May 22, 1990, Microsoft launches Windows 3.0 with GUI graphics, VGA support, and 3D effects similar to those in current versions of Windows. The OS introduces Program Manager and File Manager and is the first real OS success for Microsoft.
Windows NT 3.1
Microsoft launches Windows NT Advanced Server 3.1 on Oct. 24, 1993 as a continuation of its NT project under architect Dave Cutler. The OS launched the company into the LAN server market and introduces the Win32 API. "Windows NT represents nothing less than a fundamental change in the way that companies can address their business computing requirements," said company chairman Bill Gates when the OS was released.
Windows for Workgroups 3.11
Built of Windows 3.1, the OS added peer-to-peer workgroup and domain networking support. Windows–based PCs were network-aware for the first time and were key components of client/server computing. The OS was followed by Windows NT Workstation 3.5, which was targeted at supporting high-end applications and NetWare file and print servers.
Windows 95
Launched in August 1995 to the beat of the Rolling Stones song "Start Me Up", the OS was the replacement for the 3.1 and DOS versions of Windows. The main features were the new desktop, taskbar and Start Menu, which live on today in Windows. The OS was marked by its own integrated version of DOS that ran in the background to connect Windows and computer hardware.
Windows NT 4.0
Launched in July 1996, the OS came in four versions, Workstation, Terminal Server and two Server versions. It included for the first time Internet Explorer and incorporated the Windows 95 interface into the NT lineup. Other features included support for fax applications, a personal Web server to host Web pages, and a built-in e-mail program.
Windows CE 1.0
The compact OS, introduced in Nov. 1996, went on to become the foundation for many other platforms including AutoPC, PocketPC, Windows Mobile and SmartPhones.
Windows 98
Released in June 1998, the OS was generally viewed as a minor upgrade to Windows 95. But its claim to fame was the integration of Internet Explorer into the Windows GUI and Explorer file manager, which prompted the United States vs. Microsoft anti-trust case. The 98 SE version, released in 1999, included Internet Connection Sharing, NetMeeting 3.0 conferencing software, and the DirectX API 6.1.
Windows 2000
Launched Feb. 17, 2000, the OS worked on both the server and workstation, but its most important feature was Active Directory, Microsoft's first crack at the directory market dominated by Novell. It also included Kerberos support for the first time and built-in versions of Terminal Services.
Windows ME
Often regarded as the biggest flop OS from Microsoft, Millennium Edition, shipped Dec. 2000, and was the last OS based on the Windows 9.x kernel. The OS, which was a bridge between Windows 98 and XP, introduced the first version of System Restore.
Windows XP
Then Microsoft co-president Jim Allchin rocks out at Windows XP launch on Oct. 25, 2001. The release, which merged consumer and business versions around the Windows 2000 code base, was followed by three major service packs, including SP2 focused on security. More than seven years after its launch, a Forrester report in Feb. 2009 finds XP, which also comes in a 64-bit version, is still on 71% of corporate desktops.
Windows Server 2003
Released April 24, 2003, the OS includes new security and configuration features, including machines mapped for specific roles. Windows Server 2003 R2 follows in December 2005 and adds management features such as branch office, file serving, printing and identity integration.
Windows Vista
Seven years in the making, the OS, released on Jan. 30, 2007 to consumers and Nov. 30, 2006 to business users, is met with a lukewarm greeting especially when compatibility issues arise that result in many broken applications. Microsoft CEO Steve Ballmer tries hard to convince users that Vista is the future, but the unveiling of Windows 7 during the company's Professional Developers Conference in 2009 signals that Vista's lifetime is likely to be short.
Windows Server 2008
Released on Feb, 27, 2008 and built from the same code base as Vista, the OS includes new features such as Server Core, Active Directory roles, Hyper-V virtualization, PowerShell, and Server Manager. The R2 version of the OS went into beta in January 2009 and includes the Live Migration add-on for the Hyper-V technology.
Copyright © 2009 IDG Communications, Inc.
Next Up: Check out these related slideshows