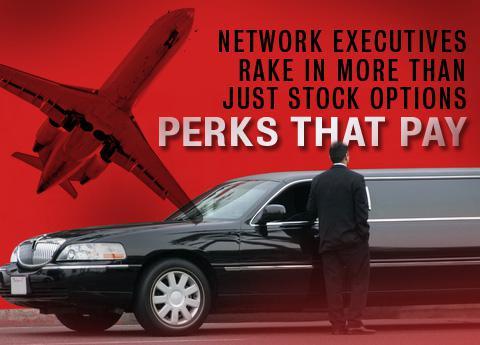 Network executives rake in more than just stock options and big bonuses. Check out these extras -- like $1.7 million for home security, a $2 million relocation expense and $400,000 for personal travel on company aircraft -- that network companies paid for, according to filings with the U.S. Securities and Exchange Commission.
Edward Mueller, who was elected chairman and CEO of Qwest Communications in August 2007, ran up $281,182 for personal use of corporate aircraft in 2007. Qwest also reported $1,904,781 worth of "perquisites" Mueller received. The bulk of those are related to his house in California, which Qwest purchased from Mueller in September 2007 for $8.9 million and sold three months later for $7.1 million, resulting in a $1.8 million loss the company absorbed.
Microsoft reported $2,025,757 in relocation expenses for senior vice president and CFO Christopher Liddell (and $253,884 for COO B. Kevin Turner), with the following footnote: "As part of our executive relocation program, in order to allow Messrs. Liddell and Turner to use the equity in their former homes to purchase new homes in the Redmond area after they were hired, we agreed to purchase their former homes at a price equal to the average of three independent appraisals because they were unable to sell the homes within a mutually agreed time. We then resold these homes at our expense."
Oracle reported absorbing $1,708,763 in security-related costs and expenses for CEO Larry Ellison's residences in fiscal year 2007: "Pursuant to a residential security program for Mr. Ellison which was adopted by the Board of Directors and is described in the [compensation discussion and analysis], Mr. Ellison is required to have home security. We believe these security costs and expenses are appropriate business expenses," the company states in its proxy statement.
Chairman and CEO Michael Dell racked up $1,034,750 in company-paid expenses relating to personal and residential security. "The Board believes that Mr. Dell's personal safety and security are of vital importance to the company's business and prospects and, therefore, that these costs are appropriate corporate business expenses," Dell reported in its fiscal 2008 proxy statement.
Motorola chairman and former CEO Ed Zander cost the company $733,629 "for personal use of company aircraft and costs for personal use of car and driver, financial planning, security system monitoring service and spousal business travel," the company reported. Zander wasn't the only Motorola executive racking up the miles on company aircraft: Former acting CFO Thomas Meredith logged $577,487 for personal use of company aircraft as well.
HP detailed $515,068 in "other compensation" received by CEO Mark Hurd in fiscal year 2007, including $125,825 for home security services and systems, $52,906 for personal aircraft usage, a mortgage subsidy of $111,082, and $19,700 for financial counseling,
Google CEO Eric Schmidt's personal security costs -- $474,662 -- for 2007 dwarfed his $1 salary and made up the bulk of his total compensation for the year, Google reported in its 2007 proxy statement.
IBM CEO Sam Palmisano's 2007 compensation includes $406,235 for personal travel on company aircraft, the company reported.
Sun CEO Jonathan Schwartz's 2007 perks included $94,271 for personal use of aircraft, $48,821 for installation of a home security system, and $47,197 for "the cost of a car and driver to transport Mr. Schwartz to and from work for security and efficiency reasons, as required by Sun," the company reported.
EMC CEO Joe Tucci's 2007 compensation includes $187,074 for personal use of EMC-owned aircraft, the company reported.
CA president and CEO John Swainson's personal aircraft use totaled $163,637, CA reported in its proxy statement. The company's corporate aircraft policy "requires Mr. Swainson to use the corporate aircraft and helicopter for personal use for security reasons," the company states.
Under the heading "other compensation," Nortel Networks attributes to president and CEO Mike Zafirovski "...the incremental cost of personal travel on the company aircraft and commercial airlines principally related to commuting ($136,262), personal use of ground transportation ($25,595), relocation expenses, tax preparation service, financial planning fees and a business club membership."
AT&T detailed $160,889 in "personal benefits" received by CEO Randall Stephenson in fiscal year 2007, including $89,919 for personal use of company aircraft, $21,047 in auto benefits, $15,455 for home security, $14,000 in financial counseling and $10,212 in club membership.
Chairman and CEO Ivan Seidenberg's "other compensation" included $149,023 for personal use of company aircraft, Verizon Communications reported.
What perk from our list or from your imagination would you work into your contract if you could? Let us know
Next Up: Check out these related slideshows