10 ways to get blazin' apps
How to optimize, accelerate and otherwise ignite application performance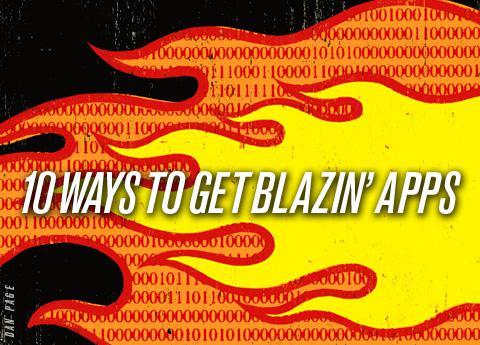 When application performance hits the skids, you hear about it loud and clear. Stop the complaints with one or more of these technologies and strategies.
If you've got a bunch of internal users accessing applications over the WAN, an obvious starting point is a WAN-optimization appliance. These devices, available from such companies as Cisco, Riverbed Technology and Silver Peak Systems, are designed to mitigate network latency and bandwidth constraints. They sit on both ends of a WAN link, performing such functions as caching and compression to reduce the amount of data that crosses the network - and improve application performance as a result. The before-and-after differences can be marked. Thomas Weisel Partners, for example, plugged in Riverbed appliances and almost immediately saw WAN traffic go down 60%. Read more.
If your main concern is how quickly Web applications load across the 'Net, check out application-delivery controllers. These products, from such companies as F5 Networks, Blue Coat Systems and Packeteer, apply load-balancing and traffic-management techniques to ease Web server loads. Tolly Group, however, shares a cautionary note: As you investigate application-acceleration options, know which types of applications a product is good at accelerating. Is the device a general-purpose accelerator, or has it been optimized to handle a specific application set? You'll want that one figured out before you buy. Read more.
Some of the latest thinking on WAN optimization and application-acceleration has the technologies coming together. Essentially, such integration would eliminate the demarcation point between the data center and the WAN. One advocate of the idea is Network World blogger Michael Morris, who says, "I'd like to see convergence of traditional data-center load-balancers and general WAN-optimization devices. It has always confused me that a convergence of those boxes has not occurred." If you haven't already, press your vendors on how they'd handle such integration. Read more.
Disaggregation is the wave of the future, says Joe Skorupa, a Gartner analyst. By disaggregation, he means the breaking down of WAN devices into component parts that can be used as necessary in the data center, branch offices or the network - that is, wherever the function "happens to make the most sense." Skorupa points to F5 Networks' WebAccelerator module as the best example to date. WebAccelerator runs on its own or can be used within the Big-IP application-delivery controller or WANJet optimization appliance. Read more.
You've most likely virtualized your servers, and now you can run application acceleration on them, thanks to new software options from Certeon and Expand Networks. Certeon offers the aCelera Virtual Appliance software, while Expand plans to release its VWAN Optimization software later this summer. In both cases, the software will run on VMware servers. Target customers include enterprises that are consolidating infrastructure and applications in the data center, and enterprises that have branch offices with unique physical requirements. Listen to a podcast.

If your users are scattered across the globe, you could find an optimization friend in a managed service provider. AT&T, BT Global Services, Verizon Business and others offer services to measure, control and accelerate application performance. For many global enterprises, buying acceleration services will be cheaper and easier than deploying technology internally, say NetForecast analysts Peter Sevcik and Rebecca Wetzel. "The combined challenges of hiring and training employees; running the gauntlets of import/export laws; and deploying, tuning and maintaining equipment in multiple countries make global self-service difficult and expensive," they say in their Network World blog. Is a managed service your best option? Read to find out.
Keeping tabs on your applications daily - or even hourly - will help keep them running smoothly and performing at their best. You can accomplish this using a discovery-and-mapping tool, such as Tideway Systems' Foundation, which is based on a configuration-management database. The tool finds every application instance - whether known to the IT department or not - and maps it to application dependencies on the network. This process gives you an at-a-glance picture of what's running and what's changed. With this information in hand, you can make intelligent decisions based on advance knowledge about the effects a potential change might have on application performance. Read more.
If you've got high performance requirements for some applications, consider creating a "tier zero" of storage. The tier, built using new, enterprise-class flash drives, would provide a place to cache frequently accessed blocks of data for speedier processing. You can build your tier-zero storage using such flash drives from start-up Pliant Technology, EMC or Sun. EMC says its Enterprise Flash Drives will deliver as many I/O operations per second as 30 15,000-rpm, 300GB drives. Yowza! Listen now.
Rather than implementing an application that runs poorly over the WAN, then requires network and application optimization techniques, WAN optimization experts Jim Metzler and Steve Taylor suggest this novel approach: From the get-go, write applications that run well over the WAN. In other words, simulate the WAN experience during application development, then fine-tune for it. As they say in their "Wide Area Networking Alert" newsletter, "IT organizations that accept the relatively minor overhead and cost associated with using WAN-emulation during application development will in many cases experience huge benefits in terms of deploying applications that actually run well over the WAN." Read more.
When it comes to optimization, remember this golden rule: Application performance is a factor of IT as a whole. More often than not, you can trace performance degradation to a variety of causes at many different infrastructure layers - server, application, database, desktop, middleware and so on. Such complexity puts siloed IT infrastructures at a disadvantage when it comes to ensuring, supporting and troubleshooting application performance end to end. Rather than relying on the server team to keep the servers up, the database team to handle the databases, and the security and network teams to make sure their pieces work as promised, all the pieces - and staff - need to work together seamlessly. Read more.
What technologies - or tricks - do you use to pimp your apps?
Copyright © 2008 IDG Communications, Inc.
Next Up: Check out these related slideshows