Review: Firefox maintains edge over Microsoft in browser wars
Firefox 3 beta beefs up usability and security, while superior speed and standards support make it the browser to beat.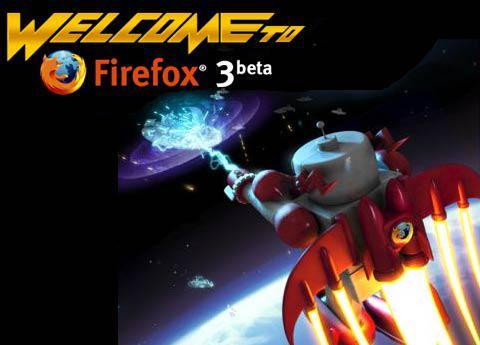 On the heels of Microsoft releasing its first Internet Explorer 8 Beta 10 days ago, Mozilla has released very late beta code of its next major browser release, Firefox 3.0.l Currently in its fourth beta cycle (one more is expected), our testing showed that there is certainly a lot to be excited about in Firefox 3.0. An improved user interface, valuable security additions, much faster JavaScript, and, of course, even more support for Web development standards are merely the start of what's in store. So release the hounds, it's time to hunt down what makes this upcoming Firefox release a prize.
One change is apparent upon first launch: Firefox 3 now has a big fat back button in the upper left hand corner. The forward button and history pull-down round out the primary navigation zone, with the reload and stop buttons nearby. This improved layout is comfortable to use, and noticeably different from Internet Explorer, which splits navigation controls between the left and right sides of the browser.
The address bar for Firefox 3 now supports a much richer type-ahead drop-down than has been seen in previous browsers. To help you pick your destination of choice, the drop-down narrows your recent locations as you type, and shows URL, title, icon, and even whether the address is bookmarked. The address bar also allows for one-click bookmarking and direct subscription to RSS feeds, which are also quite handy features.
The improved bookmark manager of Firefox 3 is going to make many similar add-on tools obsolete. Simply dubbed "Places," the new system brings history and bookmarks together into one interface. A SQLite database built in to the browser powers both the type-ahead facility previously mentioned and this powerful bookmark-and-history system. This allows users to move from a simple hierarchy of bookmarks to a fully searchable collection of URLs visited and saved. The keyword tagging feature in particular will be welcome to those who find that a single category doesn't describe a saved site.
To improve security, Firefox 3 adds a number of features to help users glean information about the site they are visiting. Dialogs that show who owns a site, what cookies are set, and even the various media elements delivered in a page are easily accessed with a single click.
Another dialog box that allows users to get more information about the site they are visiting
The purpose of the previous features that show location is to help users avoid phishing and malware-oriented sites. Firefox 3 also supports a feature to alert users to the fact they are visiting a site that may be a source of trouble. In principle, this should inform users that sites are dangerous via a blacklist approach, but in our testing it appeared that this feature is still in beta -- obvious phishing sites clearly were not addressed. Hopefully this will be fixed soon; for now it is a security blanket at best.
A welcome improvement for Firefox 3 is a better ability to handle permissions on a site-by-site basis. Users can now easily decide if they want to accept cookies, pop-ups, images, and more for each site they visit. Even password memorization on a site-by-site basis is much more likely to be used because of the way it is implemented in this release. Improved usability was clearly a major goal of this Firefox release.
Internet Explorer 8 pushes a number of features, such as activities, that suggest that Web sites should be more tightly integrated. Firefox 3 addresses this concept as well with its Web Service Helpers feature. In this version of Firefox, various content types no longer have to be handled by local helper applications, but instead can be passed to Web based services for handling. Using Web services as helpers clearly shows that the line between desktop software and Web software continues to blur.
Inheriting the mantle of JavaScript ownership from Netscape, Mozilla moves it forward to version 1.8, adding even more functional-language-like features, in case you really want to relive your college years and get into Lambda calculus again. On the upside, this release also includes useful DOM features like document.getElementByClassName going native, as well as porting some Internet Explorer DOM extensions, notably for screen measurement to improve cross-browser support. The most useful thing particularly for Ajax fans is that native JSON decode/encode support is soon on the way.
Also on the JavaScript front, Ajax continues its march forward with proprietary features in Firefox 3 to monitor progress of requests, handle errors, send binary requests and, like IE8, issue cross-domain requests. Also, like IE8, it is possible to issue cross-window calls. Some of this power does come with a price, and it is a very safe bet that cross-domain and -window requests are going to be abused as soon as this browser becomes popular -- you've been warned.
Much has already been said about the raw improvement of JavaScript speed in Firefox 3 Beta 4 -- and that talk is true. Benchmarks such as Sunspider verifiably show Firefox 3 twice as fast as previous betas (and the current IE8 beta ) in executing JavaScript. Improved JavaScript execution is welcome, given its importance in Ajax, but while this browser is clearly faster when it comes to JavaScript, HTML and CSS performance benchmarks, we can't deny the fact that it's quite easy to find test cases and page renders to favor one browser or the other
Firefox has long had good showings in Web standards compliance and this release is no different. Like Internet Explorer 8, Firefox 3 handles the Acid2 test properly but it also scores fairly well on the new Acid 3 test. For now, no browser aces Acid 3. The WebKit engine that powers Safari is the current leader, but given the changes in browsers as of late, it's not yet prudent to crown the 2008 standards king of the Web world.
Powell is the founder of PINT, a San Diego Web development and consulting firm. He is also the author of the recently published Ajax: The Complete Reference (McGraw-Hill Osborne Media). Powell can be reached at tpowell@pint.com .
Firefox 3 continued its march towards final release with the Beta 5, which made its debut in early April. The browser continues to improve its industry leading JavaScript performance with some modest but noticeable gains versus the previous Beta release. Standards conformance also inches forward with more passes in the Acid 3 test case though it is still far from full conformance. With more bug fixes and stability gains in place Firefox 3 is likely not far from going for gold, so administrators should expect large adoption by the summer.
What do you think of what you've seen of Firefox 3 beta so far? Are there elements of the new version of the browser you are excited about or wish they had included? Do you think it's a better browser than what IE8 has to offer ?
If you are a developer, check out the beta version of Firefox 3 and let us know what YOU think.
Jump into the discussion!
Copyright © 2008 IDG Communications, Inc.
Next Up: Check out these related slideshows