Microsoft Internet Explorer 8 Beta sneak peek
In this review, we see that it's got a new look, adheres to Web standards and includes handy features, but some changes could pose networking concerns, raise security risks.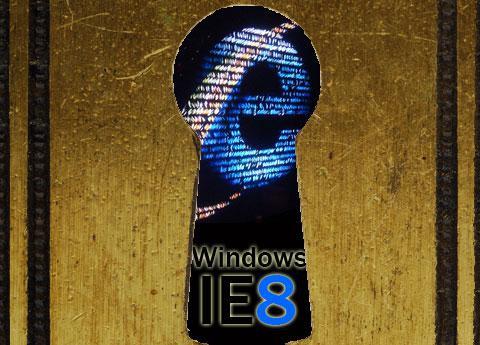 Microsoft unexpectedly slipped out a very early beta of Internet Explorer 8 this week to give Web developers a leg up on what to expect when it releases the actual product later this year. You may have heard the collective sigh of relief from Web developers around the world when they found that the browser has been improved to adequately embrace Web standards, which should make developing cross-browser compliant Web sites a whole lot easier. While much of the improvements in IE8 are under the hood and yet to be tested by fully by Web developers, we've set up the software and have worked with it to expose some of the most interesting aspects in the early beta. Take a look as we've found some good, some bad and some pretty ugly.
You see immediate indications that IE8 is much different from IE7. For example, the domain portions of URLs are bolded to be more noticeable, an effort to help thwart phishing schemes. Also, the status bar on the bottom is on by default for similar reasons, and there is no obvious way to hide it. The most obvious visual changes are buttons to emulate IE7 and a developer tools icon, which is likely a hint at who will be the happiest about the changes in the new browser.
IE8 tremendously improves the Microsoft browser's support of HTML, CSS, and JavaScript. It even passes the Acid2 test (note the happy face!). Web developers who still want to complain can note that the newer Acid3 (note the ugly failure notice) test doesn't work so well yet, and is well behind Firefox 3, which itself is even farther behind builds of lesser-known browser engines like Safari (powered by WebKit).
Site developers who have long had to doctor Web pages for them to render properly in previous IE versions, may find that those pages now have issues rendering properly in this standards-focused version of the browser. See what it does to the popular Google Maps site here. As a remedy, users can easily switch to an IE7 mode by themselves if they get this view, and the developer can tell the browser to fall back to an older rendering engine automatically with a custom HTTP header or a <meta> tag put in the HTML document.
Firefox fans have long crowed about Firebug - the powerful Web developer tool that provides HTML/CSS inspection and manipulation, JavaScript debugging, and even HTTP request monitoring. IE8 has a built-in Firebug imitation that allows similar DOM tree inspection and editing and JavaScript debugging. However, it lacks HTTP traffic inspection facilities.
An interesting networking-level change for IE8 is that it goes beyond HTTP 1.1's two-connection limit for a particular domain, now allowing up to six connections when sensing that a broadband connection in use. This can be useful in AJAX applications that may get blocked when numerous requests stall, but such a change may result in request surges on Web servers.
IE8's new XDomainRequest (XDR) object can break the same domain origin policy integral to JavaScript security and allow the browser to connect to other sites beyond the site serving a particular page. While it will be useful for building client-side mash-ups, this feature could lead to serious security concerns if misused. Another feature called Cross-Document Messaging (XDM) also provides the possibility of similar types of mash-ups and simplifies a current trick used with inline frames for wrapping page widgets safely.
IE8's new Activities feature provides context-specific actions that are invoked by the user. Activities are similar to the idea of SmartTags from years back, but are more Internet-focused. For example, in this screen capture, a user can highlight the words "iPod nano" on a Web page and search for these terms on Craigslist by invoking an Activity with a right-click. The whole process can happen without leaving the current window or document.
IE8 introduces the idea of WebSlices. Basically the idea here is to provide sections of pages that can be monitored, similar to the monitoring that happens with RSS feeds. WebSlices are more granular than RSS feeds, can be added to specific portions of pages by developers, and are directly integrated into the browser for subscription and monitoring purposes.
IE8 is clearly taking Web accessibility seriously, as shown by a very improved page-zooming facility. Under the hood, the browser also supports the emerging ARIA standard which brings accessibility features to rich Internet applications such as AJAX-powered sites.
Powell is the founder of PINT, a San Diego Web development and consulting firm. He is also the author of the recently published Ajax: The Complete Reference (McGraw-Hill Osborne Media). Powell can be reached at tpowell@pint.com .
What do you think of what you've seen of IE8 so far? Are there elements of IE8 you are excited about or wish they had included? Jump into the discussion!
Copyright © 2008 IDG Communications, Inc.
Next Up: Check out these related slideshows