12 shockingly stupid social media misfires
During the past year, the social media world saw a variety of poorly executed ad campaigns, but these 12 standouts, from companies including CVS, DHL, Outback Steakhouse and Starbucks, are complete disasters, according to social media experts.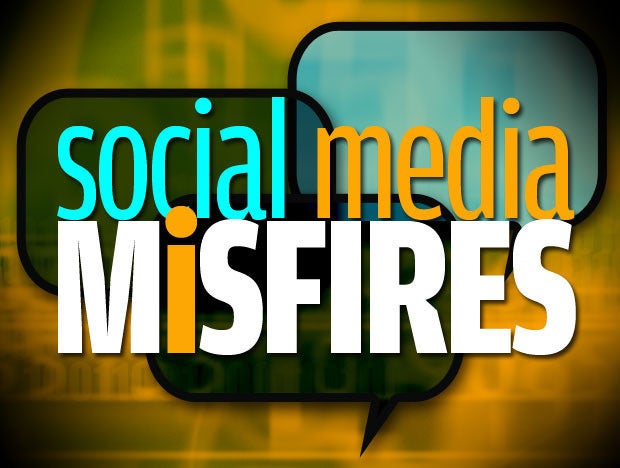 Social media misfires of 2014 and 2015
What the heck were you thinking?
That's the question that came to mind during the past year after Malaysia Airlines, Starbucks, American Apparel, and other major brands and celebrities unleashed ill-conceived social media campaigns. Social media is a fast-flowing river, and navigating it can be as tricky as guiding a kayak on Class V rapids. However, the following dozen misfires, blunders and faux pas prove that organizations need to think before they act; have social media teams review proposed campaigns and tweets before posting; understand their own brand images; and simply practice good old common sense.
Here are 12 of the past year's most stunning social media misfires, in alphabetical order. (For more social disasters, read "12 shocking social media horror stories." For the flip side, check out "12 standout social media success stories.")
American Apparel's Challenger disaster
Remember NASA's horrific space shuttle Challenger explosion in 1986? A social media manager at American Apparel, born after the disaster and who apparently had no knowledge of the widely broadcast tragedy, posted a stylized image of the explosion on the brand's Tumblr page on July 4, 2014. The company issued an apology and said it was "an honest mistake," but the image caused an explosive reaction of its own.
The lesson: "There should always be a system in place to double-check social media content," says Folke Lemaitre, CEO and founder, Engagor. "On social networks, there's little room for error, because by the time the mistake has been made, it's often been seen and shared by many."
Bill Cosby's meme request
Bill Cosby's request on Twitter for fans to "meme him" was one of 2014's biggest social media head-scratchers. The tweet included a link to a meme generator on Cosby's website.
While the entertainer "is going through numerous disturbing allegations of sexual assault, inviting people to craft their own jokes about you is just mind blowing," says Bill Fish, president, ReputationManagement.com.
Not surprisingly, Cosby got "memed," but probably not in the way he (and his social media advisors) wanted. "Fans created memes with some pretty inappropriate captions in regards to Cosby, especially focused around his sex scandal," says Caitlin Fischer, assistant account executive, Lotus823.
Build-A-Bear, CVS botch 9/11 tributes
In an effort to honor the anniversary of the Sept. 11, 2001 terrorist attacks, some brands caused more heartache than comfort. Build-A-Bear posted a tweet with an image of a homemade bear in battle fatigues and the phrase, "We will never forget." CVS added its logo to a photo of the Tribute in Light, the twin blue beams of light that shine in lower Manhattan to represent the fallen World Trade Center towers.
Both companies saw social media backlash because they mixed commercialism and commemoration. Such missteps are a reminder that brands' social media teams should get multiple people involved to look at potentially sensitive posts from a variety of different perspectives, according to Francesco Gallo, social media community manager, AppDynamics.
Conservative Political Action Conference's clueless Q&A
In February 2015, the Conservative Political Action Conference's official Twitter account asked followers to tweet questions for the upcoming conference's speakers, using the hashtag #CPACQ. What followed was a flood of snarky questions, such as "Is the alleged climate change connected to Benghazi?" and "Will there be time to go out and play in the snow during the global warming panel?" The hashtag campaign quickly derailed, with some of the comments going mildly viral.
The lesson: Organizations should have a clear idea "what the public truly thinks of them" before starting a hashtag campaign, according to Davy Kestens, CEO, Sparkcentral.
DHL's Jules Bianchi's infamous Facebook post
Shipping service DHL had to apologize for its October 2014 Facebook post that said Formula 1 driver Jules Bianchi was "fighting for his life" after a "ghastly accident in Japan." The company asked its followers to "Like" the post as a way to send the injured driver "best wishes for a speedy recovery." Many DHL followers, however, were outraged. "Are you kidding me," wrote one follower. "Using a tragic accident to try and increase the number of likes on your page? For shame DHL. You might want to rethink your social policy ... because this is downright offensive." DHL apologized and eventually removed the post.
"Capitalizing on this tragedy was in bad taste," says Alessandra Torati of Torati Consulting Inc.
Dr. Oz's questionable Q&A
In yet another glaring example of a brand, or in this case a celebrity, that misjudged their own image, TV's Dr. Mehmet Oz invited Twitter users in November 2014 to send him their "biggest questions," and promised to answer his favorites on his show. The TV host, who was under fire at the time for promoting weight loss products that some deemed dubious, received a lot of questions he was unlikely to call "favorites." One such question: "What's your favorite snake oil? How do you sleep at night?" and "What has been your most profitable lie for money so far?"
The takeaway: Companies and individuals should be wary of launching interactive social media campaigns while their brands are receiving negative press, according to Ashley Reed, social media director, BKV Advertising.
Malaysia Airlines bucket list contest contested
Malaysia Airlines' brand image experienced a lot of turbulence in 2014. The company's flight MH370 disappeared in March 2014, and its flight MH17 was shot down over Ukraine the following July. Then in September 2014, the airline unleashed a promotion for consumers in Australia and New Zealand, as part of which entrants were asked, "What and where would you like to tick off on your bucket list, and explain why?"
The airline "didn't take into account the questionable concept of invoking the idea of a bucket list — things one wants to achieve before death — with its recent tragic history," says Amir Zonozi, chief strategy officer, Zoomph. The contest was subsequently repositioned as "Win an iPad or Malaysia Airlines flight to Malaysia."
Outback Steakhouse's flag flap
Outback is an American steakhouse chain with an Australian theme. In January 2015, the chain launched a social media promotion to celebrate Australia Day, but the flag depicted in its promo was British, not Australia, and it omitted the island state of Tasmania. The gaffe made headlines and received hundreds of snarky comments on Reddit, though the chain didn't comment on its error on Twitter or Facebook, according to Joseph Szala, senior creative at Iris Worldwide.
"Although the brand's intentions were benevolent, the move smacked of being out of touch and ill-informed," says Szala. "It was also quite insulting to Australians who take pride in their country."
Smucker's GMO gaffe
The presence of genetically modified organisms (GMOs) in food products is a hot-button issue, one that caused jam and jelly maker Smucker's some embarrassment in 2014. The company posted a statement in support of GMOs on its website, and the post quickly caused consumers to complain on its Facebook page.
Smucker's quickly deleted the complaints, and to make matters worse, it "released a statement saying that the comments were considered spam, when they weren't," according to ReputationManagement.com's Fish.
Deleting those comments "upset consumers who in some cases were simply asking for clarification on what is in the product," says Vanessa Camones, CEO of theMIX agency. "This social media fail resulted in an expanded number of customers boycotting the brand."
Starbucks #RaceTogether becomes grande embarrassment
Starbucks is often seen as a social media superstar, but in March 2015, the coffee chain was scalded by its #RaceTogether campaign. Its goal was to inspire talk among Americans about race relations, and baristas were told to write the phrase "Race Together" (or #RaceTogether) on customers' coffee cups.
The company was trying to raise awareness of racial issues, and possibly initiate a dialog between customers and baristas, but the campaign was roundly jeered. Slate wrote that the idea flopped "because nobody ... wants to talk with a stranger about the gross discrimination faced by America's black and Latino communities during the morning coffee rush." Starbucks later instructed baristas to stop adding the phrase to coffee cups, though it says the broader campaign will continue.
Victoria's Secret #IAmPerfect backlash
In the fall of 2014, Victoria's Secret launched a "Perfect Body" marketing and social media campaign to promote its brassieres. Critics took the company to task with a Change.org petition that received 33,000 supporters and demanded that the company "take responsibility for the unhealthy and damaging message that their 'Perfect Body' campaign sends out about women's bodies." Scores of Twitter users also fought back with the hashtag #IAmPerfect. As a result of the backlash, the company changed the wording of its campaign from "The Perfect Body" to "A Body for Every Body."
Victoria's Secret campaign "was extremely tone deaf, especially when other campaigns that make a point of fighting body shaming, like Dove's, have recently been so successful," says Torati Consulting's Torati.
Washington Redskins #RedskinsPride
There's an ongoing battle over the name of Washington's NFL team, the "Redskins," which many Native Americans and their supporters consider offensive. In May 2014, 49 Democratic senators (led by Democratic Majority Leader Harry Reid) sent the team a letter to protest the name. A few days later, the team asked its Twitter followers to tweet Reid and show support for #RedskinsPride. However, the hashtag was soon used against the Redskins on Twitter, in tweets like this one:
"The Bullets changed their name. You can too. The Nationals had fun naming the team. What's wrong @Redskins? No #RedskinsPride?"
Lotus823's Fischer says that when companies try to use a social media campaign to solve ongoing reputation problems, the efforts often backfire.
Next Up: Check out these related slideshows