Here's what the floor at Google I/O 2015 looks like
Check out what actually happened at Google's big annual shindig in San Francisco.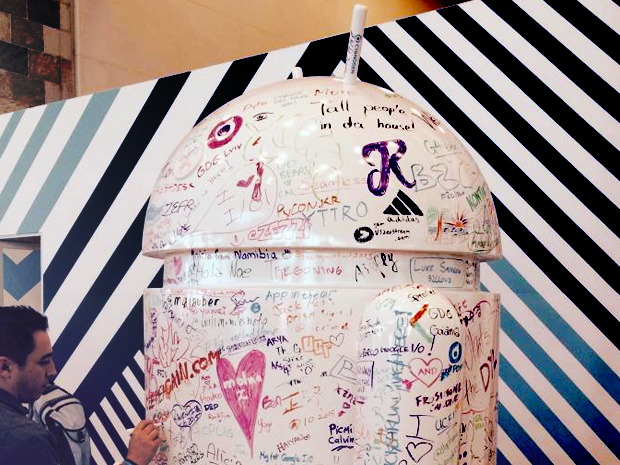 Welcome to Google Prom
You've already probably read a lot about what's happening here at Google I/O 2015 in San Francisco. (Although, of course, if you haven't, feel free.) But what you might not have a good sense of is what it's actually like to be here at the show, walking around and looking at Google's latest creations – so check out these pictures to get an idea.
The website tester
Here are all the devices Google can think of, trying to load the same website. The idea is to test whether certain form factors, platforms, or even device orientations are having trouble with your design.
Paper prototyping
There's a lot to be said for physically mocking up your app on an actual piece of paper, instead of just working with the layouts in abstraction.
Arts and crafts
A big part of the aesthetic this year was this sort of arts-and-crafts theme, seen here in the form of the paper and sundries used to make the prototypes on the last slide.
A creepy-as-heck Android choir
I looked directly into their eyes and now I'm pretty sure there's an ancient curse on me. Please email if you know any good exorcists.
Pew-pew-pew
This is apparently an augmented reality shooting game, which poses no troubling implications whatsoever and also looks to be pretty fun. And hey, Nerf is involved, so there's a lot of experience in the bright-orange gun market already at the table.
Devs gonna dev
Technically, it's a developer conference, so it shouldn't be a surprise that a lot of attendees spend some of their time playing with the toys that Google's rolled out for them in the Code Labs.
Android Auto
Here's a developer tinkering with a test kit for Android Auto, not, as one might assume, getting ready to blast some hot jams for the enjoyment of all.
Cardboard children
Google did a lot of lo-fi-themed stuff at this year's I/O – I found these paper action figures decorating the second floor at Moscone. Am I crazy, or does the thing on the upper shelf look like a Space Invader?
Topiary Droid
I don't know exactly what plant this is made out of, but I definitely pictured it being made by a smaller Android with big claws on its fingers and a soulful expression, who just wants to be loved.
Relaxing
I mean, why NOT have Street Fighter arcade machines and Star Wars pinball? What kind of developer conference would it be without those things? That'd just be silly, right?
Zoomed out
Here's what one of the main show floors looked like on Thursday. There may be as many as 1,000 Android devices in this one picture.
Teeter-totter
Either having these here was a metaphor for some kinds of balances and tradeoffs in the development process, or somebody just decided "what the hell, let's have a teeter-totter this year."
Next Up: Check out these related slideshows