HP Pro Slate 8 features magic pen
It's been reported of late that tablet sales have stalled, so some tablet makers have responded by designing premium-priced devices with powerful specs and unique features. To this category, I would add one of HP's latest efforts.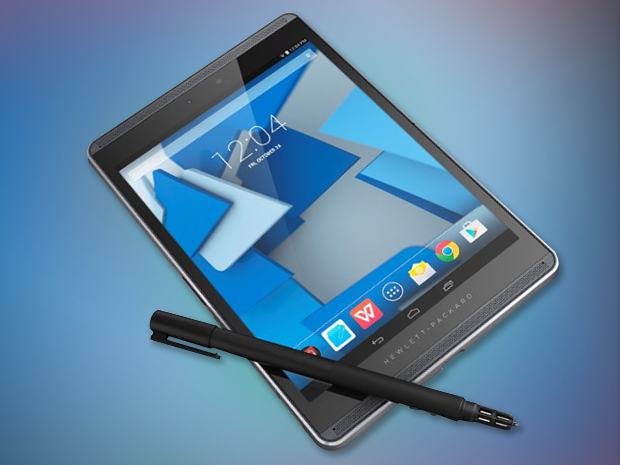 Trying to spark tablet sales
It's been reported of late that tablet sales have stalled, so some tablet makers have responded by designing premium-priced devices with powerful specs and unique features. To this category, I would add one of HP's latest efforts: The Pro Slate 8, which is designed to serve primarily as a digital notepad. What's interesting is that this tablet can detect vibrations that its digital pen (called the Duet Pen) gives off while you use it on paper, and, based on this information, replicates the pen's movements on its screen.
Form factor: Feels like a notepad
The Pro Slate 8's casing is made of aluminum with a flat, smooth back, and its edges are angled slightly inward toward the user. Measuring 5.39-inches by 8.16-inches with a thickness of 0.31 inch, this tablet is just a little thicker than a standard 5-by-8-inch 50-sheet writing pad and weighs only 0.77 pounds. So, when the Pro Slate 8 is set on a table, and you use its digital pen as a stylus to "write" on its display, it lends an impression that your hand is interacting with something that feels like a notepad.
Display: Sharp
The 7.9-inch display has a resolution of 2048-by-1536 pixels, which gives it a 4:3 aspect ratio. It uses Corning Glass, which is not matted. Glare was hardly noticeable when I viewed the display indoors under indirect or low lighting, and with its brightness set to its highest level. Outside, glare became more pronounced, but things on the screen were legible so long as I stayed out of direct sunlight. Graphics and words looked sharp. Colors were defined without bleeding into one another, even with the display brightness turned all the way up.
Cameras: Good focus
I tested the tablet's rear-facing, 8-megapixel camera to see how well it could capture an image of an entire 8.5-by-11-inch sheet of paper with text on it. It did so with the words in sharp focus, when I used the Android default Camera app. Also, it focused in on the text when I held the page within a few inches of its lens. Colors, brightness and contrast in stills and video under typical indoor lighting appeared close enough to real life, and their resolution didn't exhibit graininess. Outdoors during the daytime, the results were similarly good, though colors could become washed out under bright sunlight, or muddled in shadowed areas.The front-facing, 2-megapixel camera produced pictures and video with apparently identical quality.
Audio: Clear
Two speakers are set into the bezel. When the tablet is held in landscape orientation, the speakers are at the left and right edges -- which is where your thumbs and maybe palms will be gripping onto, blocking them. But they definitely sound best in landscape mode, where its power button and volume rocker are situated at the top. The sound is aimed right at the user, so the speakers don't convey an omnidirectional presence when you tilt the display away from you. As I cranked up the volume, the speakers handled the loudness without distorting. Audio clips that I captured with the tablet's mic sounded clear with no distortion.
Software: Lots of apps
The Pro Slate 8 is listed as running Android 4.4, KitKat. The tablet that HP loaned me for review updated itself to 5.0.2, Lollipop during the time I had it. Along with the usual suite of Google apps, the tablet includes third-party software Avast Mobile Security, Evernote, Kingsoft Office, and Skype. I tested the tablet mainly with the two apps that were designed to work with the Duet Pen: Corel Painter Mobile and HP Notes.
Performance: Solid
The Pro Slate 8 uses a Qualcomm Snapdragon 800 processor that's specced up to 2.3 GHz. From what I could determine, the tablet exhibited few problems handling several of the apps I launched on it. There were some caveats: I got it to play HD videos (720p and 1080p) on the YouTube site, but the audio would fall out of sync on videos set at 1080p resolution.
Digital pen: Double duty
The Pro Slate 8's digital pen, the Duet Pen, is made of a matted plastic, and it feels like holding a felt-tip ink pen that has a skinny barrel. Not only can you use the Duet Pen to virtually doodle and write on the tablet's screen, it also can draw actual ink on paper. To switch between these two modes, you pull out its tip, flip it to its other end, and re-insert it. One end is a rubber nib that's safe to press against the Pro Slate 8's glass display, and the other is an ink pen tip. There's a battery inside the Duet Pen that you charge with the same included micro USB charger used for the tablet.
Performance: Duet Pen works for drawing or taking notes
Corel Painter Mobile is a basic drawing tool with a sufficient feature-set for sketching digital art using the Duet Pen or the touchscreen. Corel Painter Mobile recognizes pressure sensitivity: For example, the colors of digital lines you draw become darker the harder you press the pen against the screen, and colors can be blended together as if they are oil paints. The drawing cursor managed to keep up when I moved the Duet Pen in my hand -- and also when I did so hastily. HP Notes is designed to serve your digital note-taking needs. It followed my manual writing speed well enough that I could imagine it being suitable for real-world note-taking purposes.
Performance: Using the Duet Pen remotely on paper
The Pro Slate 8 can be set so that you can control an on-screen cursor when the Duet Pen's tip is away from the tablet's display. You lay the Pro Slate 8 on a flat tabletop and set a sheet of paper about 2 inches to its left. What you draw or write on the paper shows up on the tablet's screen. The problem is that it's difficult to get it to work well. The tablet senses for the Duet Pen's movements within a certain defined area, but it can be a guessing game trying to keep your movements inside this invisible range. Also, the technology isn't as accurate as using the Duet Pen as a stylus on the tablet's display. Using the HP Notes app, most of my writing looked warped and had missing segments. I had to write very slowly so my writing would turn out somewhat legibly.
Battery
HP lists that the Pro Slate 8 can run up to 10 hours on a full charge. The official spec sheet says that this is with its wireless capabilities off, and doesn't mention the Duet Pen. So I left this tablet's Wi-Fi on and it connected to the Internet, kept its display brightness at its middle setting most of the time, and used the Duet Pen as much as I could -- doodling, scribbling notes, and navigating through its Android UI. The result under this maxed-out scenario: Almost 7 hours.
Conclusion
The Pro Slate 8 has a nice form factor, good cameras, and decent performance. It functions acceptably well for digital note-taking when you use its digital pen as a stylus, but its remote tracking technology of this pen feels more like an experimental feature than a premium one.
The specs
OS: Android 4.4, KitKat; 5.0.2, Lollipop (available as download update)
Processor: Qualcomm Snapdragon 800, 2.3GHz
RAM: 2 GB Onboard storage: 16GB or 32GB eMMC
Display: 7.9", 2048 x 1536 pixels
Audio: headphone/microphone combo jack, microphones (two), speakers (two)
Camera: 2 megapixels, front; 8 megapixels, rear Networking: Bluetooth 4.0, NFC, Wi-Fi (802.11a/b/g/n/ac)
Ports: Micro USB 2.0 Expansion slots: microSD, nano SIM, ZIF connector with pogo pins Battery: Up to 10 hours (listed); almost 7 hours (as tested for this review)
Dimensions (width, length, thickness): 5.39" x 8.16" x 0.31"
Weight: 0.77 pounss
Price: $449 (16GB eMMC version)
Next Up: Check out these related slideshows