OS X El Capitan tips and tricks you need to know
Some tips on how to make Apple's new Mac OS X El Capitan work for you.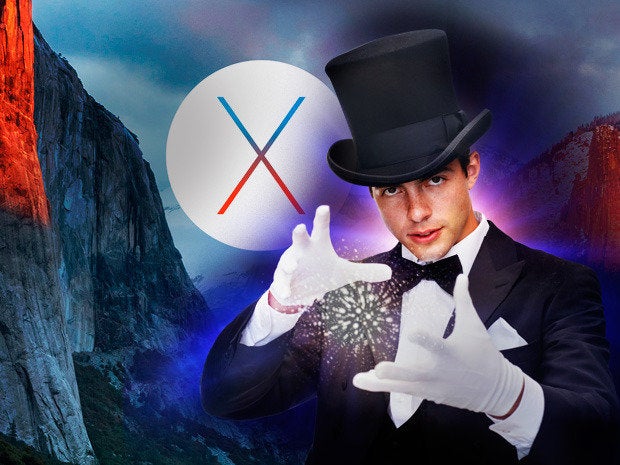 Get the most out of OS X El Capitan
With OS X El Capitan, Apple decided to focus on the overall user experience and improving performance rather than jam packing the update full of brand new features. If this at all sounds familiar, it's because it's the same exact strategy Apple implemented with iOS 9. Thus far, even users running older hardware have reported that their machines are running noticeably faster with OS X El Capitan. Still, Apple did manage to add a number of compelling and useful features that are worth highlighting. Here are some of the more interesting features to help you get the most out of OS X El Capitan.
Find your cursor
One of the cooler features in OS X El Capitan is the ability for users to quickly find a seemingly missing cursor on a display. To activate this feature, simply start shaking the mouse rapidly back and forth and the cursor will magically start getting bigger until you stop. This works just as well on laptops where users can, even more simply, trace their finger alongside the edges of the trackpad.
Split View
Admittedly, the ability to view two apps side-by-side is something that Windows users have enjoyed for quite some time. Still, it's better late than never as this feature is rather useful. To get two apps side by side, simply click and hold the green resize button and drag it into place. Following that, find the window of another app and click the green resize button there. And just like that, you're in Split View mode. Note that you can also adjust how much screen real estate each app takes up by clicking and moving around the vertical bar between the apps.
Mute tabs in Safari
Following in the footsteps of Google Chrome, Safari in OS X now lets users quickly keep track of which open tabs are playing audio via a speaker icon located next to each tab. This is a lifesaver, as there's nothing more frustrating than when your computer starts autoplaying a video in a window that you just can't seem to track down. To mute a tab, simply tap the icon and select "Mute this Tab." One trick worth mentioning is that if you option-click on the speaker icon in a tab, it will give you the option to mute all other tabs. To mute a single tab, simply perform a single click and select "Mute this Tab."
Hide the menu bar
Apple is notoriously stingy about letting users customize the look and feel of OS X, but thankfully with El Capitan the company has loosened up a bit. So much so that it's now possible to make the top menu bar disappear automatically when not in use. To enable this feature, go to System Preferences > General and then select the "Automatically hide and show the menu bar option." Of course, to bring it back, simply drag your cursor to the top of the screen and it will reappear just like that.
Track flights from within Mail or Messages
Borrowing a feature Apple first introduced in iOS 9, OS X El Capitan will show users a flight map whenever a user hovers over a flight number, whether it be in the Mail app, Messages, or even Notes. This should prove particularly handy when a friend sends you his or her flight number and you want to quickly keep tabs on arrival and departure times. If you had Apple's new MacBook, note that you can Force-click on a flight number to achieve the same effect.
Pin tabs in Safari
Google Chrome may be the world's most popular browser, but Apple is hardly ignoring Safari. Amidst the typical slate of performance improvements, Safari in El Capitan now allows users to pin favorite and frequently visited websites right below the URL bar. You can accomplish this by going to a website you enjoy, then going to the Window menu and selecting "Pin Tab." Simple as that. Admittedly, this feature isn't new to other browsers, but it's nice to see Apple finally getting up to speed.
New Swipe gestures in Mail app
Apple over the years has made a number of steady improvements to OS X's built-in Mail app. With El Capitan, OS X Mail is more powerful than ever before, in no small part due to a number of new swipe gestures Apple has added. For instance, if you have an item in Mail selected, you can swipe to the left to bring up a 'delete' option. Similarly, users can now swipe to the right to mark a message as unread.
Trash files quicker than ever before
While trashing and deleting files in OS X has always been a simple two-step process, either via the keyboard or via drag and drop, OS X EL Capitan introduces a new keyboard shortcut to delete selected files even faster. After selecting the files you'd like to get rid of, simply press option+command+delete and the files will be emptied to the trash and summarily deleted.
Move the Spotlight window
Spotlight in OS X has long been a great way to search for and access information quickly. In OS X Yosemite, however, the Spotlight window was automatically centered in the middle of the display. While this positioning can be helpful, it can also be frustrating as it blocks an important area of your screen. Thankfully, OS X El Capitan fixes this. Now, OS X users can simply click and drag the Spotlight window around to their heart's content. Remember, Spotlight can be activated by pressing Command+Spacebar.
Access Transit directions in Maps
You didn't think only iOS 9 would get transit directions for the Maps app, did you? Naturally, Apple's revamped Maps app in OS X now features transit directions as well, whether you're looking to get from A to B via subway, bus, or train. Currently, the only supported cities are in China and in Baltimore, Berlin, Chicago, London, Mexico City, New York, Philadelphia, San Francisco, Toronto, and Washington, D.C.
To take advantage of transit directions in OS X Maps, select 'Directions' from the toolbar, enter your location and your ultimate destination, and then tap on "Transit" from the sidebar.
Rename files from the contextual menu
At long last, Apple has made it that much easier to rename files via the contextual menu. Simply control click on a file in the finder and select "Rename," which is located right below the tried-and-true "Get Info" option.
Mail app now supports tabs
Because tabbed web browsing makes for a more efficient and enjoyable user experience, Apple figured it might as well implement something similar with the OS X Mail app. Now it's possible for users to compose multiple email messages concurrently without overlapping windows creating a cluttered desktop. To activate a new tab from within mail, simply press Command+N.
Create checklists in the Notes app
Long ignored, Apple has finally started to bulk up the functionality of its Notes app, both in iOS and in OS X. With El Capitan, the Notes app is more capable than ever. Not only does it allow users to import maps, PDFs, URLs, audio messages and photos, it also lets users create to-do lists, a handy, if not essential, feature for any notes app.
Expanded Spotlight functionality
Even though OS X doesn't officially have Siri built-in, spotlight in OS X El Capitan has taken on some of Siri's more useful features. Spotlight can now handle natural language queries. For instance, you can ask Spotlight to show you "pictures I edited last Wednesday" and it will take it from there. As another example, you call tell Spotlight to "show me emails from Josh" and it will have you covered. You can also use Spotlight to look up sports scores, weather reports, stock quotes, and more. Spotlight can be activated by pressing Command+Spacebar.
Quickly cycle through Safari tabs
If you have multiple tabs in Safari open, you can cycle through them via these keyboard shortcut commands. As an illustrative example, pressing Command+1 will take you to the left most tab, Command+2 will take you to the tab located immediately to the right of the first tab, and so on and so forth.
Spinning beachball of death gets a new look
OK, so this isn't a feature, but seeing as it's long been a part of OS X, we figured it was worth highlighting that the famed spinning beachball of death (i.e SBOD) got a makeover in OS X El Capitan. Aligned with Jony Ive's taste in design, the new spinning beachball sports a much more refined and flatter look than its predecessor.
Copyright © 2015 IDG Communications, Inc.
Next Up: Check out these related slideshows