For sale: The nuclear bunker of your dreams
Be the envy of your survivalist friends with this 235-bed beauty in Northern Ireland.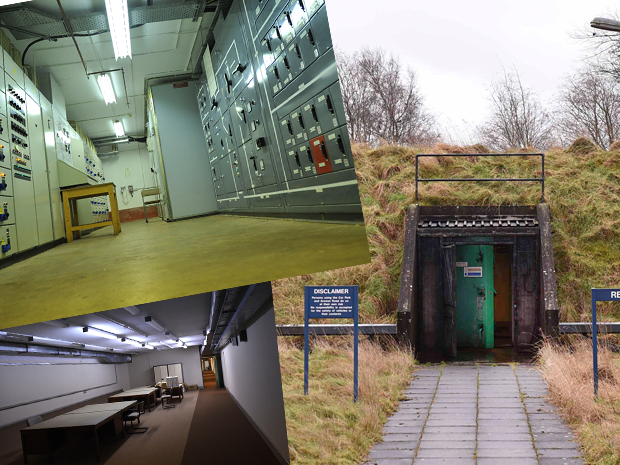 Ultimate hideaway
You say you'll need an escape route should the presidential candidate of your nightmares prevail come November? Perhaps a spacious and lavishly equipped nuclear fallout bunker will do the trick, provided you're OK with a move to Northern Ireland and can pony up the quite reasonable $840,000 asking price. Built in 1987 at the end of the Cold War, the bunker sleeps 235, and while its technological trimmings may be in need of modernization, such will be the least of your worries once President Nightmare has a finger on the button. The Guardian has details and a Reuters photographer shows the place off here.
Looking for the right buyer
The entrance and for sale sign are seen outside a former nuclear bunker built by the British government in Northern Ireland toward the end of the Cold War.
Your front door
Maybe not the most inviting in the world, except perhaps under certain circumstances. Sign on the left reads: "DISCLAIMER: Persons using the Car Park and Access Road do so at their own risk. No responsibility is accepted for the safety of vehicles or their contents." May I pour you a drink?
No home is complete without …
 … a "Fresh Air Absolute Filters" room. The radiation symbol may raise an eyebrow among your guests of a certain age.
Your 'bedroom'
Here's the dormitory in a nuclear bunker built by the British government in the late 1980s and recently put up for sale. In the event of a nuclear attack, the building could operate in a shut-down capacity for 30 days. Or at least it could when it was active.
Unusual amenity
Your bunker comes with what once was a BBC broadcast room. Use your imagination.
Power up
Here's the generator room of your nuclear-bunker-turned-home. No word available on yearly heating and cooling bills.
Just in case
Your family may never need a room of this type, but for others it could provide a certain peace of mind.
It's a start
You'll want to stock your own provisions, of course, but the previous owners have left a supply of staples, assuming you're OK with "stewed steak."
Home office?
What is described as "a general clerical room" will likely make a serviceable home office, provided you're not too intent on an outside view.
What did you expect?
The realtor did mention that this was a nuclear fallout bunker, after all. Doesn't mean you'll have to show this to your guests.
Antiques?
It's not clear from the news stories when this bunker was last considered active, but the operations room may be in need of a technological upgrade in any case.
Old-school instant messaging
Described by Reuters as "a message chute," what you're looking at here is a pneumatic tube-based messaging system that must have made sense at the time for some reason. (Quick story: On a college internship in the late '70s, I captured a live bumblebee and sent it from the newsroom to the composing room in one of those tubes. They did not hire me when I graduated.)
Just in case
Your bunker comes with a backup phone. We know it's a backup phone because the yellow sticky note on it says "Back Up Phone." There's a number on it, too, which is highly unlikely to work though you're free to try.
What did you expect?
The bunker was built by Brits, after all. Can't speak to the freshness of the tea, however.
Play room?
Your kids will find a way to maximize use of this long corridor. Floor hockey would be one option.
Watch those doors
There are three ways into and out of your nuclear fallout bunker and this control panel can tell you the state of each at a glance. Those states being: locked, unlocked, closed, open or unspecified "emergency." The latter is the one you don't want to see glowing.
Take a load off
Lounge room in your bunker offers a reminder of where in the world you are sitting.
Just in case
While a nuclear fallout bunker is supposed to be the place you duck into to escape an inferno, it's possible that you'll need to escape a toaster fire or whatever.
One way out
Claustrophobic yet? The bunker sits under 3.75 acres in the community of Ballymena, which lies between the cities of Belfast and Derry.
Copyright © 2016 IDG Communications, Inc.
Next Up: Check out these related slideshows