The FBI today said it released a new application easier for the public—as well as financial institutions, law enforcement agencies, and others—to view photos and information about bank robberies in different geographic areas of the country.
+More on Network World: The weirdest, wackiest and coolest sci/tech stories of 2016 (so far!)+
The Bank Robbers application runs on iPhones and iPads (Apple iTunes) as well as Android smartphones (Google Play) and lets users sort bank robberies by the date they occurred, the category they fall under (i.e., armed serial bank robber), the FBI field office working the case, or the state where the robbery occurred.
"If the location services on your device are enabled, you can view a map that shows the relevant bank robberies that took place in your geographic area. You also access surveillance photos, physical description information, robbery details, and the FBI's wanted poster for each suspect. Users can also select push notifications to be informed when a bank robbery has taken place near their location," the FBI stated.
The app ties into BankRobbers.fbi.gov the FBI's bank robbery site.
The app also provides quick access to a link directly to the FBI online tips page so users can contact us the bureau if they have information on any of the robberies or suspects., the FBI stated.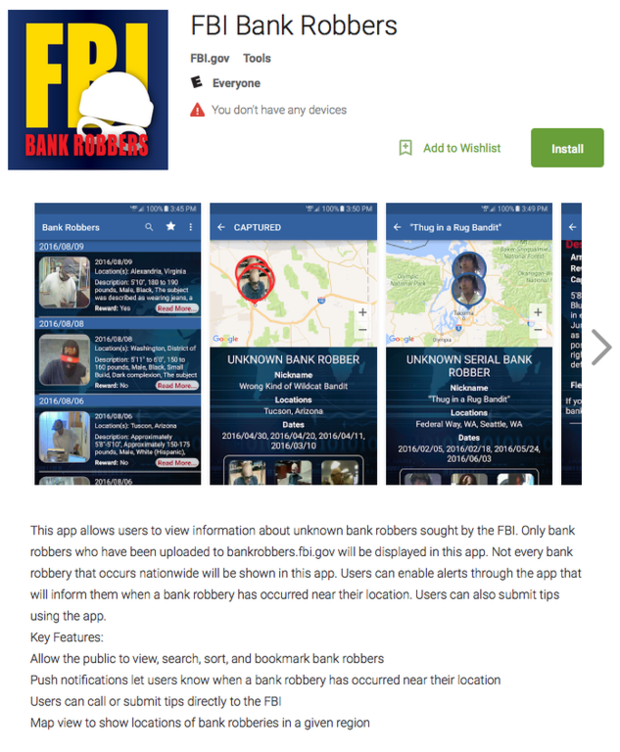 This story reminded me of an item I wrote in 2007 that talked about why the FBI labels bank robbers with wacky or amusing monikers. Does it really help the FBI and other police officials more quickly catch bank robbers? There seems to be some anecdotal evidence from the FBI that says it is so. At least the FBI never seems to be at a loss for calling a bank robber by another name. For example here is a very short list of FBI-named bank bandits the agency has caught or is currently looking for:
Pony tail Bandit
Goofy Hat Bandit
Irreconcilable Differences Bandit
Grocery Store Bandit
Paint by Numbers Bandit
Pepper Spray Bandit
Here's a short list of what the FBI is doing with odd monikers and the Web:
In Seattle, the FBI is the man behind some of the most unique names assigned to bank robbers - "Attila the Bun," "Groundhog Day Bandit," Hollywood Bandit." The catchy names serve dual purposes - a hook for media attention to help solve robberies and a tool to help investigators track serial suspects. Meanwhile, to help prevent bank robberies in the first place, the FBI developed a tactic designed to put potential robbers on their heels-shower them with immediate personal service.
In Baltimore, the FBI worked with public and private entities last year to create a website specifically to spotlight suspected bank robbers in the Baltimore, Washington, D.C., and Northern Virginia regions. The site, bankbandits.org, is seeded with a catalog of surveillance images from area bank robberies and offers a way to provide tips online.
In Los Angeles, the FBI, through partnerships with other agencies, created labankrobbers.org, which covers seven counties in Southern California. The site, like Baltimore's, features dozens of still surveillance images, as well as a category of "serial bandits" distinguished by colorful monikers assigned by Agent May-"Bad Rug Bandit," "Banana Bandit," "Paparazzi Bandit."
Check out these other hot stories:
Much ado about the ransomware scourge
US senators want airline IT meltdowns to end
Prize competitions for tough IT, high-tech problems all the rage
Cisco to jettison 5,500 jobs, will reinvest in cloud, IoT & more
Cisco uncovers security threat in industrial control system
Open vSwitch finds new home at the Linux Foundation
What will space living look like? NASA picks 6 habitat prototypes
Branch office links, big bandwidth needs drive SD-WAN evolution