iPhone 7 preview: Everything Apple will announce next week
On Sept. 7, Apple removes the cover on its long-awaited iPhone 7. Here's a look at features we can expect.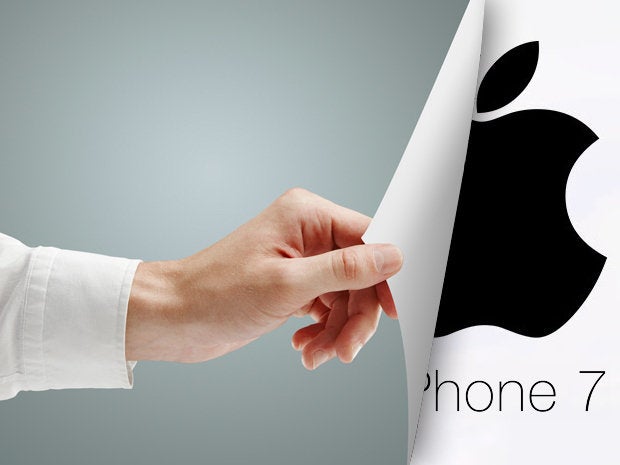 Everything we know about the iPhone 7
Apple next week will finally introduce the long-awaited iPhone 7. With each successive iPhone release, Apple pushes the technological bar even higher—and the iPhone 7 may be no different.
With the iPhone 7 unveiling set for next Wednesday, Sept. 7, we've put together a comprehensive list detailing everything we might see on Apple's next-gen smartphone. We, of course, know the iPhone 7 will ship without a headphone jack, but there's certainly a whole a lot more to know about the type of features Apple plans to introduce next week.
Improved battery life
Earlier this year, a rumor out of China claimed that Apple's iPhone 7 models will have higher-capacity batteries. While this doesn't automatically translate into improved battery life, it's certainly an encouraging sign, especially given that the chief complaint among iPhone users is that the battery runs out of juice far too quickly.
Cutting-edge Bluetooth earbuds
This one is speculative, but a Forbes report earlier this month claimed that Apple over the past few years has been developing a "custom Bluetooth radio chip for wireless earbuds" that will help deliver outstanding battery life.
Indeed, one of the reasons why Bluetooth isn't yet an adequate replacement for wired headphones—in the eyes of many—is that battery life remains a problem. With Apple opting to get rid of the headphone jack, it wouldn't be out of the ordinary for the company to deliver a superior Bluetooth user experience in its place.
Dual camera on the iPhone 7 Plus
Leaks we've seen over the past few weeks indicate Apple's 5.5-in. iPhone 7 Plus will be graced with a dual camera system. Based on technology Apple obtained when it purchased Israeli company LinX, Apple's implementation of a dual camera system may deliver improvements in picture quality in low-light environments, along with improvements in color fidelity, color uniformity, shutter lag and more. It remains to be seen, but some reports suggest that camera quality on the iPhone 7 Plus will be such a leap forward that it will inch ever closer to DSLR-level quality.
Fast-charging technology
This is another area where Apple is late to the game. Many Android devices already support fast-charging technology, and Apple with the iPhone 7 will reportedly be joining the party.
32GB of storage on the entry-level iPhone model
For years, the entry-level iPhone model boasted 16GB of storage. But now that iPhones can take 4K video quality and high-res photos, 16GB just isn't suitable in today's modern smartphone era. To this end, Apple has lagged behind the times, as most major handset manufacturers now offer 32GB as a minimum storage option. With the iPhone 7, Apple is finally stepping up to the plate; reports indicate that the entry-level iPhone 7 will feature 32GB of storage.
More color options for the iPhone
The iPhone used to be available in only two colors: black and white. But over the past few years, Apple has steadily introduced more colors into the mix, including gold, rose gold and various space grey models. With the iPhone 7, Apple may introduce even more colors. According to leaked reports, it's almost a sure thing that the iPhone 7 will come with a space black option. It's also been rumored that Apple might add a dark blue iPhone 7 model.
256GB storage option
Take this one with a grain of salt, but a report from this past January introduced the idea that the iPhone 7 Plus will come with a 256GB option. While this may seem wholly unnecessary at first glance, if the camera quality on the iPhone 7 Plus is truly out of this world, perhaps that extra storage will come in handy with all of those storage-hungry high-res photos.
Wireless charging
The iPhone 7 may support a wireless charging feature. Samsung devices already support this feature, so if Apple does go down this route, it would once again be joining the party late. While iPhone 7 rumors earlier in the year have pointed to wireless charging functionality, we haven't seen any recent reports pointing to this feature.
3.5mm headphone jack adapter
With no 3.5mm headphone jack to speak of, we've seen reports that Apple will include a free 3.5mm headphone jack adapter with every iPhone 7 sold. This would be a welcome move from Apple, as it would help ease the transition over to Lightning. Remember, with many iPhone users opting to use non-Apple headphones, requiring prospective iPhone owners to use an Apple solution or purchase an adapter on their own might rub some users the wrong way—something Apple co-founder Steve Wozniak recently talked about.
Blazing fast A10 processor
Every year, Apple's line of A-x processors gets markedly faster. The iPhone 7 will likely be no exception, as we can expect to see huge CPU and GPU performance improvements over the iPhone 6s.
Waterproof design
This is a rumor that has seen many permutations. While early reports suggested that the iPhone 7 would be completely waterproof, more recent rumors claim that the iPhone 7 will merely sport a more water resistant design. In other words, the iPhone 7 will be more water-friendly than the iPhone 6s, but it won't be enough to earn it a IP68 certification.
Redesigned home button
The home button on the iPhone 7 will be a huge departure from previous designs. According to reports, the iPhone 7 home button will be a stationary touch sensitive button that will vibrate when pressed. The functionality will essentially be similar to what Apple currently implements on its MacBook trackpads. With a stationary home button, the vibrations will be designed to give the illusion that the button is mechanical when in fact it is not.
Optical Image Stabilization on the 4.7-in. iPhone model
Optical Image Stabilization isn't new to the iPhone universe, but it's currently only a feature on the larger iPhone 6S Plus. With the iPhone 7, rumor has it that the 4.7-in. iPhone will get a major upgrade and will be graced with an advanced camera sensor. The benefit to users is crisper photos and much smoother video footage.
Copyright © 2016 IDG Communications, Inc.
Next Up: Check out these related slideshows