First Look: Apple's new MacBook Pro lineup, and more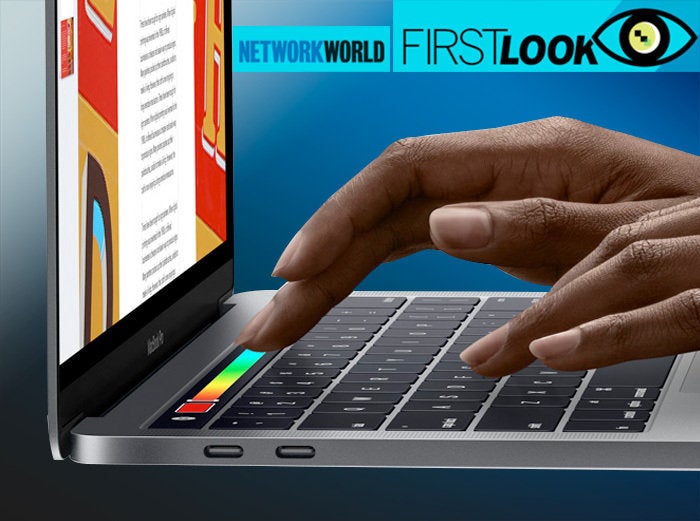 Run your fingers over this!
Apple rolled out the newest generation of the MacBook Pro today at a showcase event at the company's Cupertino campus. Along with – get this – thinner and sleeker construction, Apple's latest MacBook Pros have had several important features redesigned, and one big new feature added. Have a look.
The Touch Bar
Replacing the function keys at the top of the keyboard is the Touch Bar, a programmable touch pad, like a stretched-out smartphone display, that can serve as everything from volume and brightness controls to an auto-suggest field for typing to sophisticated input device for specialist media editing software.
TouchID
At the corner of the Touch Bar is a TouchID sensor a la the iPhone, which can be used to unlock the computer and verify a user's identity for app purchases and online shopping. Yes, it'll be even more seamless and simple to blow money on Amazon this holiday season.
The touchpad
The touchpad has been totally redesigned for the 2016 MacBook Pro models. For one thing, it takes up a lot more surface area than it did before, allowing for finer control and better handling. For another, it now uses the same Force Touch technology that Apple runs on its latest iPhones, allowing various levels of touch pressure to create different inputs.
The keyboard
The 2016 MacBook Pros boast a "second-generation" butterfly type of switch, which the company says will provide a better feel under your fingers than previous versions. The idea is to make each key more stable and responsive, compared to traditional scissor-style switches.
The screen
Apple boasts that the newest MacBook Pros feature P3 color, meaning that 25% more colors are available than the usual RGB, particularly in the area of greens and reds. The 13-inch model features a 2560x1600 native resolution, and the 15-incher takes it up to 2880x1800.
The hardware
There are three different models of MacBook Pro – a 15-inch, a 13-inch, and another 13-inch that features standard function keys instead of the Touch Bar and TouchID sensor. This lower-end model packs a Core i5 dual-core at 2.0Ghz, 8GB of RAM, Intel Iris Graphics 540, and a 256GB SSD for storage. The 13-incher with the Touch Bar ups the ante to an Iris 550 for graphics and 2.9GHz core processor speed, while the 15-inch model packs a 2.6GHz Core i7 quad-core, 16GB of RAM, and a dedicated Radeon Pro 450 GPU.
The scoop
The whole lineup is available to order now, though you'll have to wait two or three weeks for the two higher-end models to start shipping. The Touch Bar-less model starts at $1500, the 13-incher with the Touch Bar goes for $1800, and the 15-inch model is priced at $2400.
Copyright © 2016 IDG Communications, Inc.
Next Up: Check out these related slideshows