50-plus eye-popping Black Friday 2016 tech deals
iPhones, iPads, Android tablets, Windows 10 laptops, Xbox bundles, big cheap TVs & even some drones among hottest electronic deals for Black Friday 2016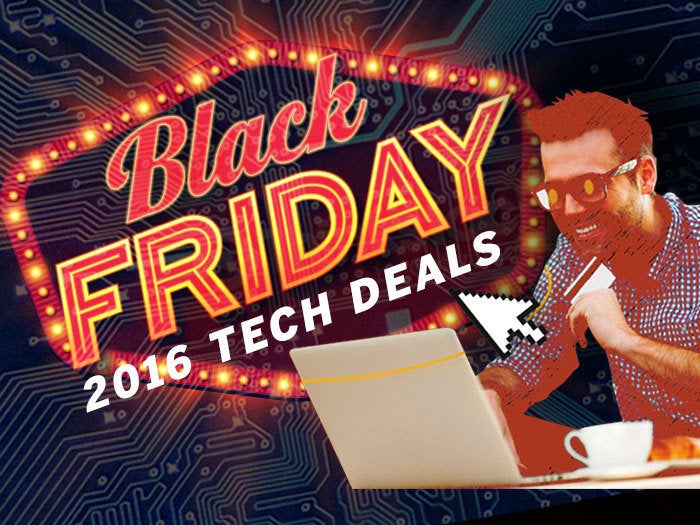 Black Friday frenzy
Some have begun referring to this month as Black November since Black Friday sales have stretched far beyond Thanksgiving Day and Nov. 25. But who's complaining when hundreds of dollars are being lopped off the prices of the hottest smartphones, tablets, PCs and gaming systems. Here's a look at some of the best deals.
Websites such as BFads.net, BlackFriday.com and BestBlackFriday.com have all been helpful in collecting this information. 
Best Buy: MacBook Air 13.3" laptop
This model of the Apple MacBook Air is powered with an Intel i5 processor, has 8GB of RAM and 128GB of flash storage. Best Buy is cutting $200 off the regular price to sell it for $800.
Best Buy: Microsoft Surface Pro 4 tablet
You can get this Windows tablet with a 12.3-inch screen, signature type cover and Intel Core m3 processor for $600 ($400 off). Note that the pen is sold separately.
Verizon: $10/month for Android smartphones
Verizon is offering phones such as the Samsung Galaxy S7, Pixel Phone from Google and Moto Z Droid for $10/month for 24 months, 0% APR, which is a savings of up to $400 on these devices.
Best Buy: eero Wi-Fi access points
Blanket your home with Wi-Fi coverage via a three-pack of these 802.11ac dual-band APs from eero for $400 ($100 off)
HP: Omen Desktop 870-120st
This Windows 10 Home 64 gaming system, marked down from $1,800 to $1,300, cranks via an Intel Core i7-6700 CPU (four cores), an NVIDIA GeForce GTX 1070 graphics card, 8MB shared cache, 16GB of memory and 1TB of storage.
Best Buy: LG 60-inch 4K Smart Ultra HDTV
The retailer is lopping $200 off the price of this LED set, for a final price of $600.
Shopko: Samsung Galaxy Tab E Lite tablet
Shopko's Black Friday sales start online the day before Thanksgiving and online at 4pm Thanksgiving Day. Among the deals, this 7-inch Android tablet for $70, which is $60 off the regular price. It comes with 8GB of storage and can be expanded via a 32GB microSD card.
Michael's: Sharper Image Virtual Reality viewer
Even the arts/crafts supply retailer is getting the VR bug, offering this viewer, which it claims works with most smartphones. The gadget usually sells for $50, but comes in at $20 for Black Friday shoppers, and even less if you grab one of the 25% to 50% coupons Michael's is making available over the Thanksgiving holiday shopping weekend.
Shopko: Polaroid 10-inch tablet bundle
Perhaps not the first name the comes to mind for tablets, but yes, Polaroid makes this 10-inch system featuring Android 6.0 and comes with a Bluetooth keyboard in this bundle for $60 ($140 off the regular price). Boasts 8GB of storage and 1GB of RAM. Loving the promo language on the Shopko website about "Keep yourself nice and occupied by purchasing this…"
Sam's Club: Linksys AC2400 Router
This 4x4 802.11ac Wi-Fi router, marked down from $120 to $80, pumps data at up to 1733Mbps and is powered by a 1.4GHz dual-core CPU. Includes 4 Gigabit Ethernet, USB 3.0 and eSATA/USB2.0 ports. Sam's Club deals run from Nov. 25-27.
BJ's Wholesale Club: Samsung Galaxy Tab A tablet
BJ's is offering this 7-inch Android tablet with 16GB of storage, plus a bonus 16GB microSD card, for $90, which is $50 off the regular price. BJ's is offering this deal from Nov. 18 through Nov. 29, though stores are closed on Thanksgiving.
Staples: Amazon Fire HD 8-inch tablet
Staples, which opens its doors on Black Friday at 6am but is closed on Thanksgiving, is axing the price of this tablet from $130 to $80.
BJ's Wholesale Club: HP 15.6-inch laptop computer with Microsoft Office 365 Personal
Lop $220 off the price of this bundle to come in at $500 for the package. The machine boasts 1TB of storage, 8GB of memory and an Intel Core i7 processor.
Dell: Inspiron 11 3000 2-in-1
Dell is marking down this flexible laptop/tablet from $350 to $200 online for Black Friday. The machine, which weighs in at just over 3 pounds, boasts Windows 10 Home, 4GB of RAM and a 500GB hard drive.
True Value Hardware: Striker Drone
This glow-in-the-dark hovering machine, which is 2.4GHz WiFi-enabled and can record video to your smartphone/tablet, is being marked down by 40% to $70. The drone can be used indoors/outdoors, and weighs in at 3 pounds. For True Value, "Black Friday" extends from Nov. 16-29.
Dell: Inspiron Micro Desktop
This compact desktop will run you just $100 (!), half off of Dell's usual price (though we've seen it listed for as much as $350 too). The machine runs Windows 10 Home, has 4GB of memory and a 1TB hard drive. It's powered by a 6th generation Intel Core i36100 processor.
Kohl's: Apple Watch Series 1 & 2
Apple and Kohl's have buddied up so that the retailer better known for its clothing sales will be adding Apple Watches to the accessories it sells. The Series 1 & 2 watches will sell for $269 and $369, respectively, which is no bargain, but Kohl's sweetens the deal for holiday shoppers by including $105 in Kohl's cash for Series 2 buyers and $75 in Kohl's cash for Series 1 buyers.
JCPenney: Tzumi Dream Vision Virtual Reality Headset
Okay, this isn't exactly an Oculus Rift or HTC Vive setup, but if you aren't ready to pull the trigger on one of those advanced virtual reality systems, you could get a taste of VR for $10 with this deal (half price). The promo on the JCPenney website says "ready for most phones," but that would seem to be limited to Android ones.
Kohl's: Haier 49-inch 4K TV
Get this TV – regularly $350 -- for $250, plus get $75 in Kohl's cash to spend on whatever later. Sale starts on Black Friday at 1pm and is good while supply lasts online/in store.
HP: Envy 15t laptop
This 15-inch touch-optional Windows 10 laptop is powered by an Intel i7 processor, has 6GB of RAM and 1TB of storage. Regularly priced at $830, HP is selling it for $600 starting on Thanksgiving Day.
Rite Aid: Philips Earbuds
This pharmacy isn't exactly a treasure trove for high tech items, but if you happen to be at one, these $6 Philips Earbuds ($10 off, plus you get $6 in Plenti Points for their reward system) with soft rubberized caps make for a nice stocking stuffer.
HP: Elite X2 1012 G1 2-in-1
This 12-inch touch display tablet/laptop combo usually starts at more than $2,000, but the price has been slashed nearly in half for HP's Black Friday sale. The system runs Windows 10 Pro 64 and boasts a 6th generation Intel Core m processor and Intel HD Graphics 515 processor. It has 4GB of memory and 180GB of storage.
Staples: Microsoft Surface Pro 4 i5
This high-end tablet is going for $800 at Staples on Black Friday, down from the usual price of $1,000. This Intel Core i5 processor-powered tablet has a 12.3-inch display and runs Windows 10. It includes 4GB of RAM and 128GB of storage. Keep in mind that while this tablet comes with a Surface Pen, it doesn't include a detachable keyboard – that'll run you another $100 or so.
Dollar General: Xbox Live Gold membership card
Sears: Amazon Echo digital assistant
This could be a big seller during the holdays, and Sears is cutting the price from $180 to $140. Too lazy to look up the weather on your phone or look outside? Want a more mobile music system for the house? Echo could be for you (though let's see how Amazon prices it too this holiday season).
Target: iPhone 7 or 7 Plus
Put $0 and sign up for a 24-month installment plan ($36 for 128GB Plus, $31 for 128GB iPhone 7) and you'll get a $250 Target gift card
Sears: Samsung 40-inch LED TV
Sears has plenty of TVs on its sales list this holiday season, and among them is this 1080p HDTV set marked down from $400 to $250.
Kmart: Samsung Galaxy Tab A 7-inch tablet
This Android device with 8GB of storage regularly goes for $150, but Kmart is selling it for $100 and including $50 of Shop Your Way Reward points to use at a later time.
Target: Xbox One S 500GB Bundle (Battlefield 1 or Minecraft) or PS4 500GB Slim bundle with Uncharted 4
Get either gaming bundle for $250 ($50 off the regular price) plus a $40 Target gift card
Target: Apple iPad Pro 9.7-inch tablet
Get the big Apple iPad with 128GB of storage for $450, which is about $150 off via this deal. Supports 802.11ac Wi-Fi and LTE cellular connectivity.
Harbor Freight Tools: Bunker Hill wireless surveillance system
Harbor Freight is knocking $80 off this this 4-channel security system and 2 cameras, which will sell for $200 as a Black Friday deal. Keep track of entrances and exits using a 7-inch monitor screen, which displays video from up to 4 cameras and records video using an optional 32GB SD card.
Overstock: Star Wars Kylo Ren voice-changing mask
Hours of amusement, we're sure. And 25% off at $30 for the Star Wars fan who has everything.
Various retailers: New Nintendo 3DS portable gaming system
Nintendo announced two special-edition models, one white and one black featuring Mushroom Kingdom characters/imagery, for $100, at least $50 off what the 3DS usually goes for. Gaming system provides 3D-like effects without the dorky glasses.
Walmart: 50-inch LED HDTVs from Class Element and Emersen
Perhaps not household names, but might one of these make it into your household for $225?
Best Buy: Amazon Fire tablets
Best Buy is cutting $30 off the price of the Amazon Fire 8-inch tablet with 16GB of storage to $60, and is shaving about $17 off the price of a 7-inch Amazon Fire tablet with 8GB of storage for a final price of $33.33 (will be interesting to see how Amazon marks these tablets down itself).
Best Buy: MacBook Air 13.3" laptop
This model of the Apple MacBook Air is powered with an Intel i5 processor, has 8GB of RAM and 128GB of flash storage. Best Buy is cutting $200 off the regular price to sell it for $800.
Walmart: Dji Drone Phantom Standard 3 or Promark 3D Virtual Reality HD Drone
Go high-end with the Dji model, marked down from about $500 to $370, or the more affordable Promark, which zooms in at $99 ($49 off)
Office Depot/Office Max: HP 15-inch Windows 10laptop This system
 boasts an Intel i7 CPU, 8GB of RAM, 1TB of storage and comes in at $450, or $400 off the usual price. Note that other HP systems from Office Depot/Office Max can also be had for $270 and $330 with less powerful processors.
Walmart: iPad mini 2 tablet
Walmart is making the price on this pretty mini, by cutting $70 off the usual $270 price for this 32GB model.
Walmart: Samsung 11.6-inch Chromebook laptop
You'll be able to get this Celeron dual-core processor-powered laptop with 16GB of storage (expandable to 2TB!?)
Office Depot/Office Max: TP-Link AC1900 Wi-Fi router
This dual-band 802.11ac wireless router has been slashed from $150 to $90 for Black Friday by Office Depot/Office Max. Features 3 external dual-band antennas, a high-power amplifier 4 Gigabit LAN ports and 1 Gigabit WAN port.
Best Buy: Samsung Galaxy S7 or S7 Edge bundled with VR kit
Best Buy will sweeten the purchase of a new Android phone, which costs about $28 per month for 24 months under an installment plan, by tossing in a $250 store gift card PLUS A Samsung Gear VR viewer.
Amazon Echo
The Amazon Echo voice-controlled device (via its Alexa technology) will be availablefor $140, which is $40 off the usual price.
Amazon: Fire HD 8-inch tablet
The Fire HD 8-inch tablet will cost $60 ($30 off) on Nov. 24-25, and Amazon is promising that its Alexa cloud-based voice service is on the way. Starts at 16GB of storage though is expandable to 200GB via a microSD slot.
GameStop: Xbox One S 500 Games of War bundle
This package will go for $250 ($50 off), plus exclusive blue console and controllers available (Microsoft has actually branched out beyond black and white systems with a variety of limited edition colors). GameStop isn't open on Thanksgiving Day, but its deals are expected to be available at least by then online.
Toys R Us: Polaroid Wi-Fi tablets
Yes, Polaroid makes tablets, too! The toy store is offering Polaroid 7- or 9-inch Wi-Fi tablets for $30 ($30 off) and $40 ($30 off) respectively. The tablets run Android and come with 8GB of storage.
Meijer: 60-inch Vizio Smart 4K UHD TV
Meijer is marking down this big set by $370 to $600. It features 4 HDMI inputs and 2 USB ports.
Meijer: Samsung 11.6-inch Chromebook
This model with 4GB of storage costs just $150, which is $80 off the regular price.
Meijer: Samsung Galaxy Tab E Lite 7.0
Marked down from $120 to $70, plus you get a $20 store gift card tossed in. Android device features 8GB of storage, 1GB of RAM and a 7-inch screen.
Newegg: HP ProLiant ML 10 v2 Tower Server
This system is marked down from $250 to $175. Features an Intel i3-4150 3.5 GHz processor, 8GB of RAM of 500GB SATA.
Newegg: Google Chromecast
The easy-to-use streaming media player (2nd generation) is being offered for $25, which is $10. Stocking stuffer?
hhgregg: HP 14-inch AMD dual-core CPU powered laptop
This system with Windows 10 Home, 4GB of RAM, 32GB hard drive and an AMD E2-7110 processor can be had for $180 ($40 suggested manufacturer's retail price).
hhgregg: iPad Air 2 with WiFi
The retailer knocks $50 off this lightweight 32GB Apple tablet with a 9.7-inch Retina Display screen, for a final price of $350.
hhgregg: Sony 55-inch 4K TV
This appliances/electronics/furniture retailer is offering up to 40% off on many items across the store from Thanksgiving Day through Saturday, Nov. 26 (store is closed on Thanksgiving, open at 7am Black Friday). This Sony 55-inch 4K TV costs $900 ($300 off) and delivery is free.
Amazon: Belkin Ultra Fit USB 3.0 SDCZ43 128GB flash drive
Regularly $119, this ultra-small drive that's ideal for notebooks and boasts read speeds of up to 150MB/s, can be had by Amazon Prime members for just over $30.
Luma: Home Wi-Fi system
Secure, fast Internet connectivity minus the dead spots. Grab a 3-pack of Luma devices for $300 ($100 off) or 2-pack for $250 ($50 off) from 11/20 to 12/3.
Roku: Streaming Stick, Express+
Get these Roku streaming devices for $14 off each, for final prices of $36 (at Walmart) and $25 (at Kohl's) respectively through 11/28. Also available at Roku.com.
Belkin: Valet charge dock for Apple Watch and iPhone
This rose gold dual-charging station features a chrome cast arm, integrated magnetic charger for Apple Watch and an adjustable Lightning connector designed to accommodate most cases while charging. Lists for $130, but Belkin is offering $25 off any purchase of $100-plus on Black Friday, Nov. 25. Discounts rise to $60 off $200 purchases and $100 off $300 buys.
Starry Station: Touchscreen router
Regularly priced at $300, this device will be marked down by $75 from Nov. 23-29, and is available on Starry.com as well as via Amazon.com and Best Buy. Beautifully designed 802.11a/b.g/n/ac Wi-Fi router displays all of your connected devices, surfaces connectivity problems and suggestions solutions. Dual-band 2.4GHz and 5GHz. Features parental controls as well.
Copyright © 2016 IDG Communications, Inc.
Next Up: Check out these related slideshows