Machine-to-machine (M2M) communication is a significant and growing subset of the larger Internet of Things (IoT) movement, so you have to ask, "Is my network ready for machine-to-machine (M2M) devices?"
IoT can include vehicles and home appliances, M2M applications target field services, environmental monitoring, healthcare, traffic control, agriculture, fleet management, public utilities, security and oil and gas applications. The tricky part of an enterprise M2M deployment is deciding which connectivity protocol to use and then figuring out how to test to make sure the rollout goes smoothly.
+ALSO ON NETWORK WORLD: Testing RFID IoT devices for enterprise deployment; What is the Industrial IoT? And why the stakes are so high+
This guide describes the strengths and limitations of seven wireless technologies and provide a checklist of items that you should review during the testing phase of the project.
M2M Types
M2M devices utilize a broad range of technologies, some legacy and some new and evolving. The following chart shows some of the most popular technologies found in M2M devices.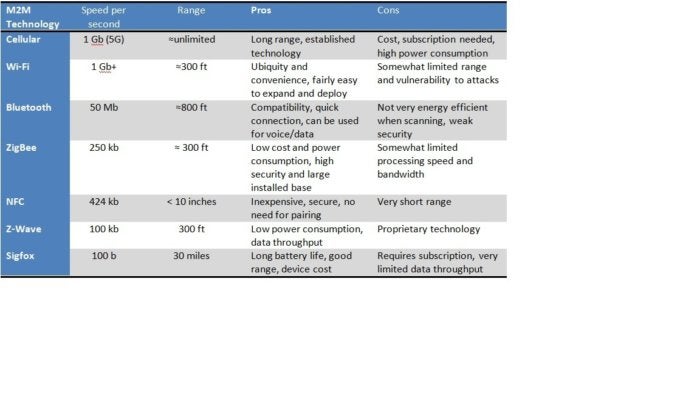 Cellular
Cellular is the most pervasive technology used in M2M communication because of its ability to transfer high volumes of data at high speeds anyplace where cell coverage is available. The challenge with current 4G technology is that it may soon be unable to support some M2M communications due to lack of bandwidth efficiency. New 5G technology promises lower latency, faster speeds, better battery life for many devices and significantly improved network capacity.
 Here's what you need to consider when testing an M2M rollout based on cellular technology:
Coverage: With cellular, coverage is the first order of business. While most providers offer reliable coverage in the most populous areas and along Interstate highways, for more remote locations, coverage can vary greatly between providers. Cellular providers have coverage maps that show where devices should work, but there is no substitute for field testing the actual devices.
Throughput: Data throughput is another important test parameter. Make sure your cellular devices and providers can handle your usage scenario by testing with live or sample data. And be sure to plan for future growth.
Portability: If portability is a requirement, confirm that devices operate correctly on more than one network.
Battery life: Test M2M devices to ensure adequate battery life despite what the manufacturer says it is. Reliable re-charging and external power solutions may be required for some installations.
Wi-Fi
Wi-Fi is available just about everywhere, so it is relatively easy to connect M2M devices to an existing Wi-Fi network. On the plus side, data throughput can reach 1 Gb+ over distances of up to 300 feet, but cost and power consumption may make Wi-Fi less than ideal for M2M. Here's what you need to test before using Wi-Fi for M2M communication: