The concept of intent-based networks (IBN) has been around for the better part of half a decade, but it's really only come into its down in the past couple of years. The vision of a "self-driving" network had appeal but was largely science fiction.
However, over the past couple of years, we have seen this vision turn into reality with several networking vendors coming to market with products that work. Many of the use cases are still fairly basic, but the foundation has now been laid and intent is where the new battleground for networking vendors will be fought.
Huawei unveils Intent-Driven CloudCampus
This week, Huawei became the latest solution provider to throw its hat into the intent-based arena when it announced its Intent-Driven CloudCampus solution at its 2018 Huawei Western Europe Partner Summit.
Huawei technology is well adopted in Asia and some parts of Europe and the Middle East but remains somewhat of a mystery with North American enterprises. The company is talking a big game with its intent-based solution. It has designed the product to make the network more intelligent, simplify operations, converge multiple networks, and be more secure while also open.
New hardware and software power Huawei's intent-driven solution 
To fulfill on this, the company launched two new software modules and some new network hardware.
New software modules:
CampusInsight 2.0. This is Huawei's network insight engine and can be thought of as the "brains" of the solution. It collects network and application data from network devices and, in real time, turns it into streaming telemetry. Huawei then applies machine learning and artificial intelligence (AI) to it to continually monitor the network to predict problems.

The company claims it can find up to 85 percent of potential issues automatically. Given the advancements in AI, I do find this number reasonable. The network insight engine creates a "digital twin" to create a model of the network that can be analyzed, and simulations can be run on it so the primary network is never disrupted.


SD-Campus 2.0. After CampusInsight 2.0 does its magic, SD-Campus 2.0 implements the changes via a full lifecycle network automation solution for the campus network. Huawei uses a combination of software-defined network (SDN) technologies and cloud technologies to fully automate network configuration, policy management, and virtual network provisioning.

The company claims an 80 percent reduction in Opex based on the success it has had with it in its own campus. Again, I have no way to validate this, but given how much of network operations' time is spent doing repetitive tasks, 80 percent should be something businesses strive for with the implementation of an IBN. These software components are used with other Huawei components to create a closed-loop system. This is a requirement for a network that is self-healing and predictive and is how self-driving cars work.   
The operational savings is where the real value of software-defined solutions is realized. Much of the media focus on SDNs has been hardware savings, but hardware accounts for less than 20 percent the cost of running a network whereas operational savings can often approach 60 percdent. Cutting even 50 percent off that number is greater than whatever the company spends on hardware.
New hardware:
S7530-HI and S6720-HI Ethernet switches. These are fully programmable switches that use Huawei's proprietary Ethernet Network Processors (ENP) for advanced functionality and merchant silicon for standardized functions. The switches include a native wireless controller for unified wired and wireless management. The S5730-HI series supports all-gigabit ports, and the S6720-HI has 100 Gig-E uplinks, making it what I believe is the first fixed switch with a programmable interface with uplinks of that speed.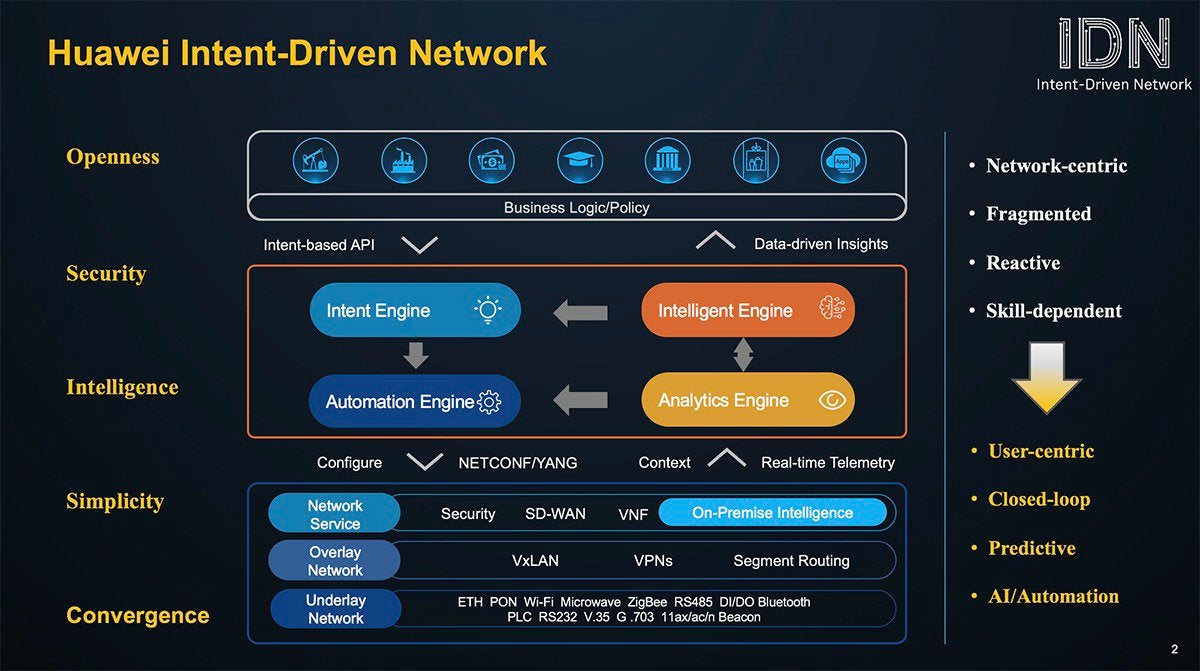 Huawei partners with over 30 companies to deliver industry-specific solutions 
This solution is geared towards the campus, and Huawei includes a W-iFi component to it. Its APs are what Huawei calls "IoT integrated," meaning it supports a wide range of protocols, including Bluetooth, ZigBee, and RFID, making it somewhat if a gateway for IoT devices.
Huawei has partnered with about 30 third parties to deliver industry specific solution in the following verticals:
Retail: Customer profiling, customer flow analysis, electronic shelf labels (ESL), and intelligent shopping guide
Logistics: Asset management, personnel management, and automated guided vehicle (AGV) navigation
Enterprise office: Energy efficiency management and asset management
Education: Student health management and electronic schoolbag (e-schoolbag)
Property management: Facial recognition access control and smart property management
Service provider: Authentication, accounting, and network management monitoring
Software-defined security included
As part of this launch, Huawei introduces software-defined security, which is a fancy way of saying it is tying all of the above together to improve campus security. This isn't as much a product as it is a use case for the Huawei's implementation of IBN. It leverages software, AI, and the data it collects to use neural network algorithms to detect advanced threats.
As I've written about repeatedly on Network World's sister site CSOonline.com, threats are now being created using AI, and the only way to combat them is with security based on AI. The solution also automates the process of orchestration, optimization and deployment of security tasks through a point and click interface.
As I mentioned before, Huawei isn't all that well known in the North American market, but as companies look to evolve to an intent-based network, the completeness of their product certainly warrants a look.