IBM has an answer for some of the biggest trends in enterprise data storage – including Non-Volatile Memory Express (NVMe), artificial intelligence, multi-cloud environments and containers – and it comes in a 2U package.
The new FlashSystem 9100 is an all-flash NVMe-accelerated storage platform. It delivers up to 2 petabytes of effective storage in 2U and can provide up to 32 petabytes of all-flash storage in a 42U rack.
NVMe is a protocol for accessing high-speed storage media that's designed to reduce latency and increase system and application performance. It's optimized for all-flash storage systems and is aimed at enterprise workloads that require low latency and top performance, such as real-time data analytics and high-performance relational databases.
Storage vendors have been re-tooling their systems to support the faster interconnect protocol, and IBM is no exception. A key change in the FlashSystem 9100 is the use of small form factor NVMe drives. IBM redesigned its FlashCore technology to fit into a standard 2.5-inch SSD form factor with NVMe interfaces – a move that reduced the physical size of the drives by more than half.
That redesign made an impression on Owen Morley, director of infrastructure at online dating platform Plenty Of Fish. Morley is among a group of users of IBM's all-flash storage who came together at an event in Mexico City to share their thoughts on the new 9100 system and the potential for NVME-accelerated storage in their own enterprises.
"The fact that they took the big modules from the old system and collapsed that down to a 2.5 inch form-factor NVMe drive is mind blowing," Morley said at the IBM event.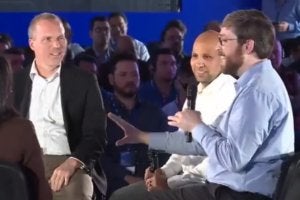 Morley also noted that IBM's full range of storage software works with the FlashSystem 9100, including Storage Insights, IBM's AI-based predictive analytics and storage resource management software, as well as Spectrum Virtualize, which provides storage management capabilities including snapshots, encryption, and storage virtualization. "I cannot wait to just kick those tires," he said.
Plenty of Fish is a longtime user of IBM FlashSystem storage. "We're driving our flash harder, and getting more performance out of it, and it's lasting longer than any other storage we've ever played with," Morley said.
Reliability won him over. "It's one of the few components in the environment that I don't have to worry about. I can hit this hard and fast and with absolutely no regard. My performance is going to be consistent no matter what I throw at it – and we throw a lot at it."
Recoverability of the system gives him peace of mind. "If there is a component hiccup – maybe a module dies or something exciting happens – we don't even notice. We get the alert. But the system is already rebuilt and recovered. And the application – it's like nothing happened," Morley said. "So we know when there's an issue only because it told us."
Looking ahead, Plenty of Fish plans to expand its use of flash storage to more workloads.  Morley said the sytem is comparable in price to earlier platforms, plus it offers all the management features with the smaller form factor.
"Our backend systems weren't on the super-fast storage that our production systems are. Now we can pull those forward, and they can get the same performance as production to run the backend of the company, which I can't wait to test," Morley said.
Flash storage enables business innovation
ZE PowerGroup started migrating its storage infrastructure to flash about four years ago to break up bottlenecks caused by growing data volumes. The data-management software development and consulting firm helps its clients manage risk and refine their market strategies by wrangling vast amounts of data; ZE collects, pools, transforms and analyzes data, so its clients can make data-driven decisions.
"At one point, our storage was falling over. It couldn't keep up with what our clients are doing," said Nader El-Ramly, ZE's chief product officer. "T