---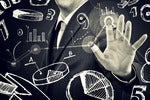 Big data technologies and practices are moving quickly. Here's what you need to know to stay ahead of the game.
An important part of the Internet of Things, Revolv's hub tries to make a group of indepedent smart devices work together intelligently. With the current state of the technology, however, that can be a challenge.
What businesses know about any given individual is a lot. But what are companies doing with that data? Not as much as you might think -- at least not yet. Companies are getting more sophisticated, however.
Some of the current consumer products could lead into important enterprise tools. An explanation, a slideshow and some data.
With hidden malware on the rise, the online advertising industry may finally have to get its governance act together.
Squeezing software cost savings from virtualization projects is tricky for lots of reasons, but can be particularly challenging when it comes to Oracle databases. Here's why, and some tips to help.
Achieving any certification worth its salt is never easy, but some are faster to complete than others -- and easier on your wallet as well. Here are five worth considering.
As CIO at Boeing, Ted Colbert is no stranger to the Internet of Things. For more than a decade, the aerospace giant has deployed thousands of communications-enabled smart devices to sense, control and exchange data across the factory...
Online tracking is on the rise, but efforts to create a practical Do Not Track policy have slowed to a crawl. Meanwhile, users and browser companies are taking matters into their own hands.
As mobile device management continues to morph, consider what's 'good enough' for what you need right now -- and don't neglect the user experience, whatever else you do.
Load More
Newsletters
Sign up and receive the latest news, reviews and trends on your favorite technology topics.
Subscribe Now