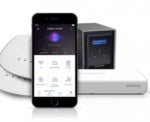 BrandPost
Sponsored by
Netgear
NETGEAR is making an impressive bid to address this challenge by their recent release of a new line of small business switches, access points, and NAS devices equipped for native cloud management via a new mobile application.
BrandPost
Sponsored by
Netgear
An interview with NETGEAR's Richard Jonker shows just how exciting Insight is for small businesses who need a little help in the IT department – or lack thereof.
BrandPost
Sponsored by
Netgear
Small business owners must wring every ounce of productivity out of every resource, including their own time. New remote management tools help put a lot of time back in play.
Load More