Sponsor: Anexinet
Predictive Insights with HPE InfoSight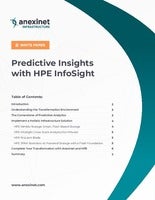 Predictive analytics are must-haves for modern businesses — yet collecting, mining, and analyzing data often proves to be costly and time-consuming. Now, with HPE InfoSight, you can seamlessly transform data into actionable insights.
HPE InfoSight constantly monitors IT systems, subsystems, and surrounding infrastructure. The predictive analytics platform captures millions of sensor measurements every second and identifies ways to improve the operating environment for every workload and application. It also works in conjunction with the following Hewlett Packard Enterprise solutions from Anexinet:
HPE Nimble Storage
HPE Synergy
HPE 3PAR StoreServ
Read our White Paper to learn how you can use HPE InfoSight to maximize IT performance and resource use.