It seems like every sport is in the process of getting a high-tech digital makeover and snow sports are no exception. For example, a 3-day old Kickstarter campaign by GogglePal for an augmented reality (AR) heads up display (HUD) that can be mounted on any brand of ski googles is already over halfway to its funding goal of $40,000 and runs through May 28.
The GogglePal system (I keep wanting to write "GooglePal" which is what it could become if a certain company gets interested) consists of the HUD module that sits inside your goggles a magnet that sits on the outside of your goggles to hold the HUD in place and a controller "pod" that you clip to your goggle strap.
The processor is a 48 MHz system on a chip with 64MB of flash memory with an OLED display and a 1,000 mAh battery good for 8 hours of operation which means you'll still be live by the time acres ski rolls up. Sensors include GPS and a 3D gyroscope.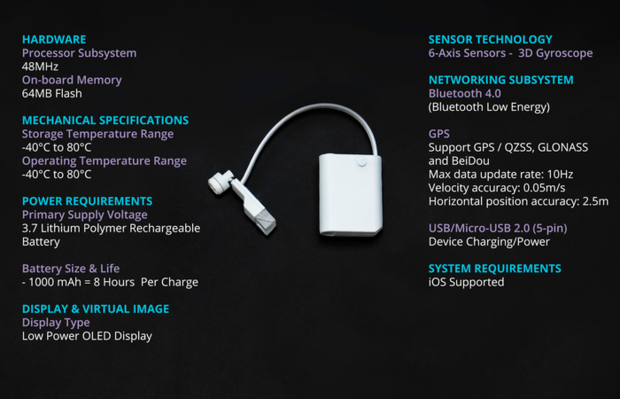 The GogglePal communicates with your iOS devices and there are three different models with different displays to choose from:
GogglePal Sport includes:  Speed, vertical drop, acceleration, air time, rotation, calories burned, and HUD message notification (this allows you to communicate with other GogglePal users).
GogglePal Connect adds: HUD navigation
GogglePal Play adds: Treasure hunt
GogglePal Play GOLD adds: Limited edition gold color
All  collected data is logged to your iPhone or iPad so you can review your performance and share it with friends.
It just occurred to me: Just imagine the amazing insights that could be gained from the data of thousands of skiers and snowboarders not only in rating their abilities and their performance on different slopes but also for analyzing the nature of the skiing and snowboarding. It's these novel, real world, uses of technology that will revolutionize sports.
GogglePal will be priced starting at $100 and increasing to $259 for the Play version. This is a tremendous product concept and if it lives up to its pitch, every skier and snowboarder will want one.