Need to move petabytes of data into the cloud? There's an old-school option that works faster than network transfers: Load a physical appliance with data, then ship the appliance to a cloud provider.
Large-scale data migrations can incur high network costs and unrealistically long transfer times. Even fast networks can take months and years to move terabytes and petabytes of data from an on-premises data center to a public cloud provider.
To make data transport easier, cloud providers have created physical storage devices that are built to travel. An enterprise can set up an appliance in the data center, load it with content, and then ship the appliance to the cloud storage company. A FedEx truck driving down the highway doesn't face the bandwidth constraints of conventional network links.
Amazon was the first of the cloud giants to offer a shippable storage device for migrating petabyte-scale data sets into the cloud. Its AWS Snowball appliance is a ruggedized device that resembles a PC tower. Google entered the market with its Transfer Appliance, a rackable storage server that started shipping this summer. IBM offers the Mass Data Migration device, and Microsoft has the Azure Data Box and newly previewed Azure Data Box Disk.
Enterprises can use these appliances to transfer large quantities of data – such as analytics data, video libraries and image repositories – to cloud storage. An enterprise might be migrating applications to the cloud, archiving inactive data, decommissioning a data center or collecting data from a research partner or vendor for analysis.
Data replication is another potential use case: An enterprise could transfer a copy of its data to the cloud for redundancy and recovery, for example, or for machine learning and analysis. And some of the appliances work for transferring data out of a cloud environment, too: If there's a disaster, for example, an enterprise could use an appliance to retrieve data stored in the cloud.
These rugged devices also are targeted at enterprises that operate in remote areas with little or no access to high-speed Internet.
"One should never underestimate the bandwidth of a semi truck filled with disks hurtling down the highway," AWS sums up. "These methods are ideal for moving large archives, data lakes or in situations where bandwidth and data volumes are simply unrealistic."
The data-transfer appliances from Amazon, Google, IBM and Microsoft differ in size and capacity; here are the specifics.
AWS Snowball
The ruggedized Snowball device includes a 10GBaseT network connection, and all data that's transferred to the appliance is secured with 256-bit encryption. It includes an E Ink shipping label for tracking. Enterprises can opt to use a single Snowball device to transport multiple terabytes of data, or use multiple devices in parallel to transfer petabytes of data (plus there's the AWS Snowmobile truck-size option for exabyte-scale jobs).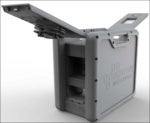 AWS charges a service fee for each data transfer job ($200 for a 50TB Snowball device and $250 for an 80TB Snowball device). The deal includes 10 days of onsite usage with each extra onsite day costing $15. Shipping charges depend on carrier rates, location and priority. It's free to transfer data into Amazon S3; data transfers out of S3 range from 3 cents to 5 cents per gigabit, depending on location.
Google Transfer Appliance
Google recommends its Transfer Appliance for companies that want to move more than 20 terabytes of data or for data that would take more than a week to upload to Google Cloud Platform. It's designed to be mounted in a standard 19-inch data center rack, and the ata is encrypted as it's captured. Once the device is shipped back to Google and the data is uploaded to the cloud, the customer can log into the console to decrypt the data and select storage for it.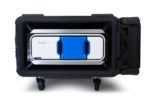 Transfer Appliance comes in two sizes: a 2U device with 100TB capacity and a 4U design with 480TB capacity. The 100TB model has a usage fee of $300 and comes with 10 days of onsite usage; each extra day costs $30. The 48