First Look
Griffin 20 pumps up the digital volume
Want a great sound system for your computer? Check out the Griffin 20 amplifier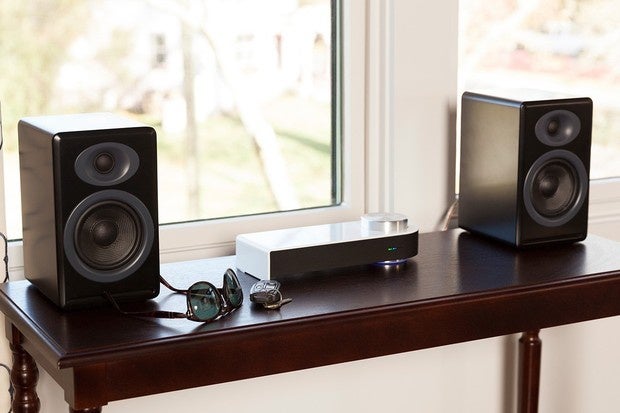 I've tried several speaker systems with my iMac and they have ranged from abysmal through to very good but most lack that audiophile quality. Not so the Griffin 20.
The Twenty is a digital audio amplifier with a 20 watt per channel output and you can switch the input from its S/PDIF optical port to Bluetooth streaming. It's got traditional speaker connectors (for either speaker wires or cables terminated with banana plugs) and there's an RCA socket to connect a subwoofer.
Setup is trivial: I plugged the included optical cable into my Mac, added a pair of very nice Sony bookshelf speakers I've had for years (I have acquired a surprising number of pairs of hi-fi speakers … perhaps they breed in my garage) and paired the Bluetooth connection was straightforward. I powered the amp up, select optical as my computer's output and, voila!
The sound quality is great (you can't beat optical when you're trying to get high quality audio out of a computer) and while I'd like at least double the power (I think that's just a hangover from my Led Zeppelin and Black Sabbath days which, I admit, are a long way off and sort of vaguely remembered; yes, they were that good) in reality 20 watts per channel is enough for most reasonable people.
The Twenty is really good looking though its single curved end looks a little odd to me given the location off the connectors. That said, it's definitely heading towards that cool B&O aesthetic. The big silver cylinder on the top is the volume control. A nice touch is the foot on the underside below the volume control that's surrounded by a sexy blue glow (this can be switched off).
My only complaint is that the delay between pressing the button to toggle between optical input and Bluetooth and when the blue indicator light comes on is just long enough and the switch tactile feedback so minimal that I find myself thinking I missed the button or didn't press it hard enough ... so I press it again and again until I remember I need to wait. Du'oh. It's funny how much we've come to expect an instant response when we press a switch.
Priced at $149.99 for the amplifier by itself (other packages are available that include high-quality speakers), the Griffin 20 gets a Gearhead Rating of 5 out of 5.