The free and open-source network monitoring software Nagios Core has a long and strong reputation, providing the base for other monitoring suites - Icinga, Naemon and OP5 among them – and a history dating back to 2002 when it launched under the name NetSaint.
For this review we tested Nagios Core version 4.4.2 for Linux, which monitors common network services such as HTTP, SMTP, POP3, NNTP and PING.There's a Windows port that's a plugin, but many users say it's unstable.
The version we tested also tracks the usage of host resources such as processor load, memory and disk utilization.Hardware requirements vary depending on the number and types of items being monitored, but generally speaking Nagios recommends a server configuration with at least two or four cores, 4-8 GB of RAM and adequate storage for the intended application.
Installation
Nagios provides a PDF with step-by-step installation instructions and although the instructions were not updated for the latest version, we were able to apply the installation commands to the version we tested. The only prerequisite is to first install Apache/PHP, and the instructions provided a simple command for this task.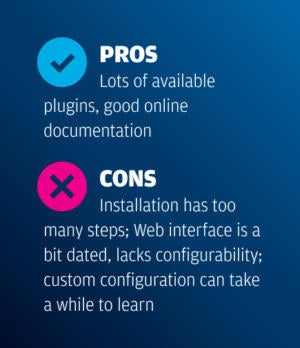 After downloading the Nagios Core and Plugins tarballs, we created a Nagios user and user group before continuing the installation. The installation itself is not particularly complicated but requires issuing about 20 different commands plus manually updating a configuration file. In our view, this could have been greatly simplified by providing a script or an executable.
Web interface
With the install and basic configuration completed, we proceeded to launch the Web interface. On our initial log in, we were presented with a dashboard-type overview with a navigation menu to the left and a main screen on the right. We were notified that our version (4.4.1) was out of date and that we should upgrade to 4.4.2, which we did using steps found in the user manual.
The home screen contains links to quick-start guides, videos, plugins and other resources. Newbies will find this helpful when starting a new installation. It should be noted that the Web interface is essentially 'read-only', as there is no mechanism for performing tasks like adding hosts or configuring alerts.
The Web interface provides a big-picture tactical-overview status screen that allows administrators to identify problems at a glance. From here, you can drill down to view details about a specific problem and take certain alert actions like acknowledging the error message and scheduling downtime.
Overall, the Web interface is easy to navigate, but feels a bit dated and could benefit from more modern and larger fonts along with some updated graphics. However, as with most things Nagios, there are downloadable third-party themes plugins available that allow you to apply a different look and feel.
The infrastructure is generally organized with hosts and services in mind, allowing administrators to view the infrastructure from both a host and/or a service perspective. Both hosts and services can be organized into groups, which makes it easier to manage larger network infrastructures.
Configuration
Nagios is principally configured using a number of configuration files, the main ones being the log, services, hosts and commands files. Each file has examples of how to configure the various parameters, and the user manual has additional configuration details. While this approach certainly has its supporters, we would have liked to see some of these configuration abilities added to the Web user interface. This would be particularly helpful when monitoring larger and heterogeneous infrastructures.